Dispense pumps meet the fluidic challenges of evolving medical IVD instruments
30 September, 2020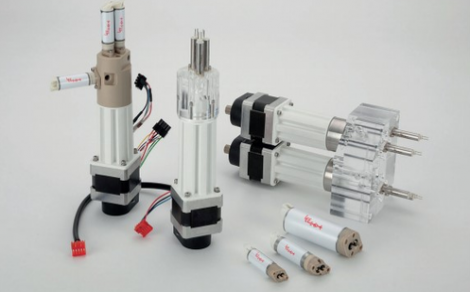 The medical IVD market is currentlyundergoing rapid change that ischallenging instrument designers at manylevels to meet new demands. It is also alarge, growing market and includes thedevelopment of instruments for keyapplications such as COVID-19 testing.
Increased cost pressures for new (andexisting) applications demands moreefficient testing, maximising throughput,not only for sample and reagent usage,but also in reliability and speed. Instrument size and simplification offluidic techniques has to be addressed tomeet point of care testing serviceswithout sacrificing throughput.
Furthermore, as the market landscape evolves, so is the demand for smaller specimen samples used to aliquot and deliver reagents to achieve a high degree of accuracy and precision.
Maximising fluidic techniques is an important part of this process and so increases the demands on crucial components such as variable volume dispense pumps. A good example of success in this area is the LPD Series of variable volume dispense pumps from 'Innovation in Miniature' specialist The Lee Company. The LPD Series of pumps are proven performers in the medical/IVD market, helping customers to meet today's demands and challenges. The key features of the LPD Series are their size and ability to provide a long-life up to 10 million cycles. Crucially, this enables customers to design the LPD pumps into their systems without the need for periodic service.
Maintenance-free
Unlike typical syringe pumps which require periodic maintenance, LPD Series pumps are not only rated for millions of cycles, they are also maintenance-free.
Therefore, they can be placed where the fluidic requirements dictate regardless of accessibility, so can be optimised for the fluidics, not for access. This also means that the pump can be situated near the fluid reservoir so that tubing lengths and flow restrictions are reduced, which in turn provides faster aspiration rates, higher throughput and shorter test cycle times. They also feature the added capability of integrating valves and other components into the port head design which minimises potential leak points and increases design flexibility.
Having a reliable, long-life pump that can last the life of the overall instrument reduces downtime and service requirements resulting in important overall cost savings.
Potential applications
The LPD Series pump has proven to be a critical asset in meeting the growing challenges associated with today's demanding diagnostic instruments setting the standard for high performance and reliability. They are field proven in reagent dispensing, aliquoting, probe washing and sample preparation applications, providing high reliability and dispense accuracy at an economical price.
---
AIR-TECH EXHIBITION


16 April, 2024, 9:30 - 18 April, 2024, 4:00




Hall 9, the NEC, Birmingham, UK

FLUID POWER & SYSTEMS EXHIBITION


16 April, 2024, 9:30 - 18 April, 2024, 4:00




Hall 9, the NEC, Birmingham, UK