Linear actuators the preferred solution for agricultural OEMs
15 September, 2020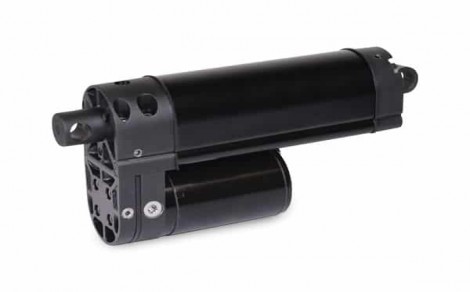 The H-Track electro-hydraulic actuator from Thomson Industries comprises a motor, pump and valves that are integrated into a mini power pack mounted onto the cylinder. This allows completely self-contained hydraulic actuation without the need for external pipework. Claimed to be able to exert forces up to 22 kN and designed to be particularly robust, the power-dense HTrack offers the required performance too.
In terms of installation, the H-Track is connected via two wires. All external pipework is eliminated, expediting installation and maintenance. All H-Tracks are lubricated for life, which further minimises maintenance requirements. This simple arrangement ensures that the H-Track offers considerable time savings on the production line and in the field.
Eliminating pipework also negates the risk of crop contamination due to fluid leakage. This ensures that harvested material is not wasted, protecting the quality of produce.
Space efficiency
Space efficiency is also enhanced, as the self-contained H-Track combines all its required features within the power pack and cylinder. Packaging is consequently improved as well as overall weight – all important in improving vehicle efficiency.
Another advantage, according to Thomson Industries, is the reduced power requirements of the H-Track. Without the requirement to power external systems, the H-Track is less power intensive. Energy efficiency is consequently improved.
The H-Track offers inherent value tooRather than specifying a pneumatic or hydraulic actuator with supporting systems, agricultural OEMs can instead specify the self-contained H-Track at a reduced comparative cost, helping to improve the value of a vehicle.
Immunity to vibrational drifting
Additional capabilities are claimed to include an immunity to vibrational drifting and hydraulic self-locking when load is reversed. The compact pump and valves can also be configured to the requirements of each application. To withstand the outdoors, the H-Track can be specified in either IP67 or IP69K ingress protection ratings, with a standard operating temperature range of between -40degC to 82degC.
Agricultural OEMs are moving to heavy duty electric actuators as they provide a host of advantages. The H-Track, for example, offers the strong performance of a hydraulic actuator while removing external pipework, easing installation, maximising value and reducing power consumption.
---