Drive intelligence for servo pumps
03 August, 2020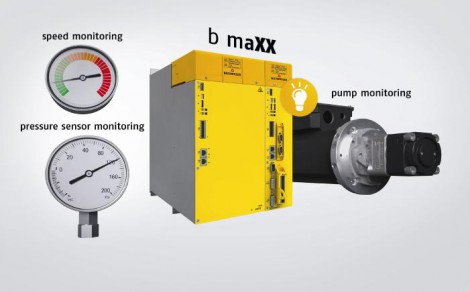 Baumüller has introduced an intelligent and energy-efficient drive system for applications such as presses and injection mold machines. With the new V2+ software package, Baumüller now offers more intelligent functions for process monitoring and process optimisation.
Due to years of intensive collaboration with mechanical engineers, Baumüller reports that it is able with its serve pump solution to significantly reduce the energy requirements of machines and systems, enabling relatively short cycle times with very low noise development and a high level of process precision.
The combination of hydraulic power transmission together with the electric servo drive technology offer many advantages. The servo drive can optionally be adjusted for significantly optimized overall system effectiveness as compared to a purely hydraulic solution and for greater energy efficiency. Other positive secondary effects are claimed to include improved process performance and low heat development.
Process reliability and process optimisation
The controller-integrated servo pump software is now available in a new, expanded version. The new software package for V2+ servo pumps offers new features especially in the areas of process monitoring, process optimization and process reliability.
With the feature for speed monitoring and slip speed compensation, service can now be planned: The leakage characteristic of the system is monitored, initiated by the machine controller. The speed is automatically readjusted as needed so that the machine continues running in the optimal range. If the leakage increases as the pump ages and a measurement value outside the tolerance is detected, the system returns an error message. The operator is thus informed automatically, enabling a pump change at the right time, which prevents downtimes and improves process quality.
Pressure sensor monitoring is another new feature that ensures process quality and prevents downtimes. As pressure sensors age, they become less accurate, so the sensor values are first optimised and then a sensor change will be indicated as inaccuracy increases. Pressure sensors also typically have a tendency towards zero drift, i.e. they indicate that there is pressure in the system when this is not the case.
Pulsating alternating pressures arising in the servo pump system can cause damage to the pump. In this case, the converter would receive the incorrect information that pressure still needs to be reduced and would rotate the motor in the wrong direction. With the pressure sensor monitoring software feature, such a false response is avoided, thus helping to prevent damage to the pump.
---