Directional control valves with multi-Ethernet interface
23 July, 2020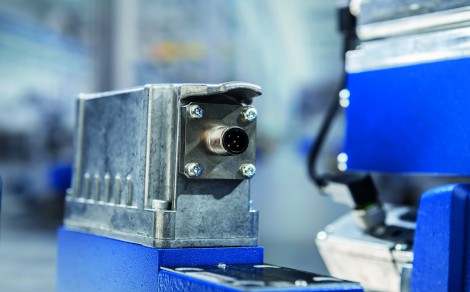 Connecting all actuators and sensors in machinery and plant construction is progressing swiftly. Requirements range from simple status requests right through to decentralised synchronised movements. Due to application-compatible solutions, Rexroth offers the new degrees of freedom to economically digitally connect hydraulic valves. The IO-Link standard provides a cost-effective way of digitally integrating directional control valves into automation processes. Directional control valves with a multi-Ethernet interface reduce system costs with integrated safety and additional functions. IAC valves with integrated motion control take care of demanding control tasks.
During operations, users can only change parameters via software using a digital interface in order to flexibly respond to new tasks. It also enables swift diagnosis and condition monitoring and thus increases machine availability. Rexroth covers different concepts and is currently the only manufacturer to offer IO-Link for directional control valves. An M12 standard cable is sufficient for setting up the point-to-point communication. Command values, actual values and important status information are transmitted via the digital interface in the cyclic range. In addition, further valve information such as histograms of temperatures, operating hours and error messages can be read in the acyclic range. This condition monitoring helps to reduce machine downtime. The digital name plate of the valves simplifies the spare part order process. Moreover, users can also enter offset values for the zero position of the axis via IO-Link and set acceleration and deceleration ramps in 4- quadrant operation.
Higher-level control commands
In the case of interpolating axes and more complex motion sequences, machine manufacturers usually use current bus technology. Rexroth meets this requirement with the directional control valve IFB with a multi-Ethernet interface to common real-time protocols. The higher-level control commands the valves. Users also have the option to configure versions with integrated pressure/force control via internal and external sensors and close the control loop in the valve decentral.
---