FUCHS Lubricants launches new compressor flushing fluid
21 July, 2020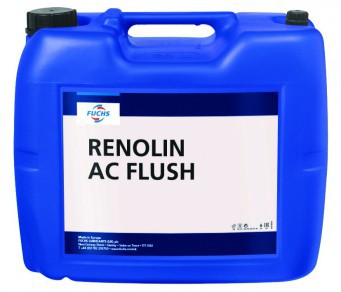 FUCHS Lubricants has launched Renolin AC Flush, a compressor flushing fluid to help eliminate deposits and varnishes to ensure maximum performance in all compressor types. Renolin AC Flush is a premium solvent-type fluid designed to dissolve varnish and sludge.
Around 5 to 10% concentration in oil should be applied to existing oil ensure the cleaning of the oil system before an oil change. Renolin AC Flush is claimed to be ideal to ensure a trouble-free transition when changing over from mineral to synthetic compressor fluids.
Alex Holmes, industrial product manager at FUCHS, comments: "Renolin AC Flush will be a popular product. This product is a first for us in the European market and we are responding to the needs of our customers who already use our RENOLIN compressor fluids. The risk over time of varnishing and deposit build-up in oil circulating systems is very real and failure to control this can have a negative impact of the performance of the lubricant or the equipment. This product is very economical to use and compatible with mineral oil and synthetic hydrocarbons and may also be suitable for other industrial oil circulating systems."
Renolin AC Flush should be used under normal operating conditions, with temperatures not exceeding 145degC. The product can be used with mineral or synthetic oil formulations with good success. Renolin AC Flush has good operator acceptability since it is free from carcinogens and other hazardous materials and has no strong odour. It is the first time the product has been available in the UK or Europe.
Holmes adds: "Renolin AC Flush will help you get the most out of your new synthetic oil and your equipment by removing varnish and other damaging contamination before changing the fluid."
---
AIR-TECH EXHIBITION


16 April, 2024, 9:30 - 18 April, 2024, 4:00




Hall 9, the NEC, Birmingham, UK

FLUID POWER & SYSTEMS EXHIBITION


16 April, 2024, 9:30 - 18 April, 2024, 4:00




Hall 9, the NEC, Birmingham, UK