IMH signs distributor agreement and brings high-pressure hydraulic technology to the Port of Blyth
13 July, 2020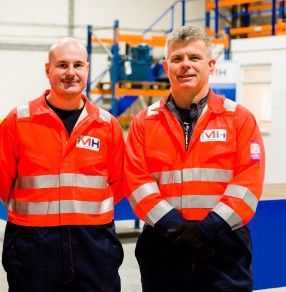 Industrial and Marine Hydraulics (IMH) can now offer an even wider range of hydraulic solutions to customers, due to a new agreement with SPX Flow.
IMH, headquartered in Middlesbrough and with a facility at the Port of Blyth, creates hydraulic solutions for a range of industries by drawing on its extensive engineering knowledge and experience of real-world applications.
The company has entered into a distribution agreement with SPX Flow on its Power Team brand, which has a broad range of component parts, accessories and tools suitable to the needs of the shipbuilding, manufacturing and industrial processing sectors. This means that IMH can further support the needs of clients based at the Port of Blyth, and the wider area, with hand pumps, pumps and jacks.
Following an intensive two days of theory and practical training on site at SPX Flow's EU operation centre in Holland the IMH team based at the Port of Blyth are all certified service and repair technicians for the full SPX Flow portfolio. A further SPX Flow-trained IMH engineer will operate from its Middlesbrough facility – ensuring the company is able to offer a full range of Power Team equipment from either location.
Two IMH employees received further sales training in the UK which means that should a customer have a need, IMH can identify and recommend the best product for the job. Under the contract IMH is also able to quickly source a replacement should any SPX Flow jack or pump become damaged. IMH is also able to provide servicing on the jacks which have to be tested every 12 months as part of safety inspections.
Strengthened level of service
James Griffiths, managing director at IMH, comments: "We're delighted to be able to strengthen our level of service and provide our customers with support around their needs around pumps and jacks, from a service team they know and trust.
"The agreement also enables us to reach a new market and in particular support our neighbouring businesses on the Port of Blyth with dedicated service and supply of their pumps and jacks, with a quick turnaround too.
"SPX Flow is a growing company with a fantastic and extensive product portfolio that we look forward to being able to offer to our customers."
Ian Harris, territory manager England and Ireland at SPX Flow adds: "It is great to be working with IMH and to have their experienced engineers working on and supplying our products into our key markets such as shipbuilding and manufacturing. When the team attended training with us, they proved to be extremely capable and because of their hydraulic engineering experience they weren't fazed by the complexities of some of our products."
An added benefit to IMH customers is that they are eligible to receive safety training from SPX Flow on the use of its jacks which have a working range of 700 bar.
---