Pump energy efficiency and risk mitigation
29 June, 2020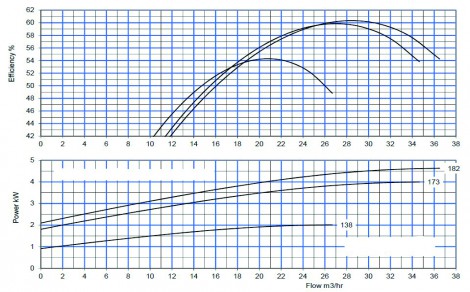 c. Net Positive Suction Head (NPSH): Pumping liquids at near boiling point triggers the question 'how much NPSH is available?'. In some cases, the pump data sheet issued with the enquiry will state a figure. For others it is a case of understanding the phenomenon and what information is needed to calculate NPSH available in the system. The first thing to understand is 'flooded suction' and NPSH are not one and the same. Flooded suction (or suction head as it is sometime referred to) is simply the vertical height of the liquid level above the pump minus losses in pipework and fittings, whereas NPSH available is a function of pumping temperature, vapour pressure at pumping temperature, SG and arrangement of the suction pipework and fittings. In simple terms NPSH available in the suction system must always exceed NPSH required by the pump at the duty point, preferably by at least 1.0m. Pump performance curve show NPSH required from minimum to maximum flow. The simplest example is probably between a pump handing water at just below boiling point where the vapour pressure is almost atmospheric and, as a result, the NPSH available is the is the static suction head i.e. the vertical height of the suction tank above the pump centreline, minus losses in the suction pipework and fittings, versus a pump handling cold water where the vapour pressure is negligible so there is (in most cases) atmospheric pressure (10.0m NPSHA) as a starting point.
d. Design Standards and standardisation: As an engineer, you should also have a view on design standards. Nowadays, pumps are designed in accordance with either International Standards Organisation (ISO) or American National Standards Institute (ANSI). As ISO pumps are metric and ANSI Pumps imperial means users with both end up having to duplicate inventory of mechanical seals and bearings. By standardising on centreline heights and fixing dimensions for each size of bareshaft pump, the end user can change manufacturer, materials, or construction, without having to modify baseplates or pipework. It is important to note, however, that ISO and ANSI pumps are not dimensionally interchangeable, and a check needed to make sure the existing motor is suitable.
Once the pump type and design standard are settled, pump selection comes into play. Good practice for a fixed speed application is to select a pump with a mid-range diameter impeller with the duty point at the left-hand side of the best efficiency point. This means a bigger diameter impeller could be fitted within the range of the power of the installed motor for a change in the process or a reduced impeller diameter for the same reason. However, the ever-increasing use of variable speed drives to save energy and reduce running cost means selecting a maximum diameter impeller and varying the pump speed to achieve the duty conditions.
Electronic selection programme
Up to the 1990s, pumps were selected from coverage charts and individual performance curves. Nowadays, most manufacturers have an electronic selection programme which will select pumps on either price or performance. Once the user has selected the best pump for the application, data sheets, curves, and dimensions are available on the press of a key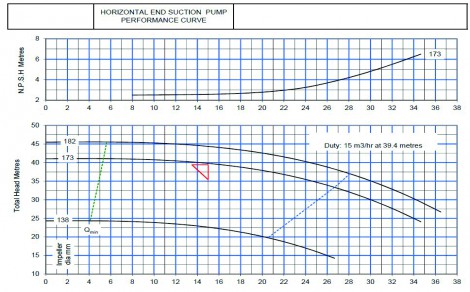 ---