PCL teams up with OSAS Ltd for the launch of new Partner+ initiative
16 April, 2020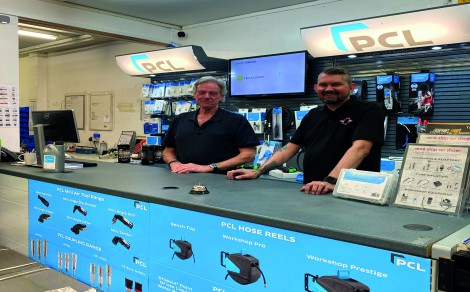 Sheffield-based tyre inflation and compressed air equipment manufacturer PCL has launched its new Partner+ initiative, which is aimed at growing the brand's market share by supporting distributors to flourish.
"The key goals of Partner+ are commitment and service," says sales director Lee Wright. "The programme will suit distributors who take a broad range of our cutting-edge products. This will enable them to develop and sustain long term sales to their own customer base, rather than just transactional sales."
In return for a Partner+ company's commitment, PCL offers a range of incentives, including branded workwear, signage, advantageous trading and credit terms, standard and bespoke marketing support and advice on the use of mailing lists. PCL will also support on Point of Sale posters, product display stands and assistance with online promotion, including social media and website visibility.
Distributors with space to set up Partner+ 'Air Centres' will be supported to hold open days for local businesses to view the product offering, with the PCL team on hand to provide help and advice on the safe use of compressed air. In addition, PCL can accompany partners on joint customer site visits, for example to introduce products and explain their benefits, such as PCL's Quick Release Safety Coupling and its ability to prevent dangerous high-pressure disconnection accidents.
Business model
The first Partner+ member to be appointed is Surrey-based One Stop Air Shop (OSAS) Ltd, located just outside the old Brooklands Race Circuit. As a PCL distributor for almost 30 years, the company will be used as the business model for future sign-ups. Trading as Metro Sales since 1988, OSAS operates as a specialist compressed air wholesaler for the automotive aftermarket, paint refinishing factors, and compressor and pipework installers across the UK mainland, Northern Ireland and Eire. OSAS also supplies PCL's tyre inflation products to several European companies within the aviation industry.
PCL's 80 years of industry experience, coupled with its core product offering of quick release couplings and adaptors, tyre inflation equipment and hose reels, made the decision to become the UK's first Partner+ distributor an easy one for Gary Crotty, OSAS's MD.
Crotty explains: "PCL's strong brand identity, quality products, and the regular release of new products on to the market allows us to approach our customers safe in the knowledge that products are competitively priced and rigorously tested before being introduced.
"After 30 years as a PCL distributor, we are uniquely placed to offer market information when looking for new products, to provide advice on stock levels and more importantly, which products to keep in stock."
Crotty described how he and his team are already making good use of the Partner+ benefits: "There's a welcome pack with a budget to spend on marketing materials, plus a match funded marketing support fund. Perfect to concentrate the minds of sales staff at point of sale. We've repainted our building, commissioned and installed new signage, and had leaflets printed showing the most popular products of interest to generate a better understanding of PCL's range to both sub-distributors and users alike."
---
AIR-TECH EXHIBITION


16 April, 2024, 9:30 - 18 April, 2024, 4:00




Hall 9, the NEC, Birmingham, UK

FLUID POWER & SYSTEMS EXHIBITION


16 April, 2024, 9:30 - 18 April, 2024, 4:00




Hall 9, the NEC, Birmingham, UK