ATC Italia customers visit AirTAC International Group's factory
27 February, 2020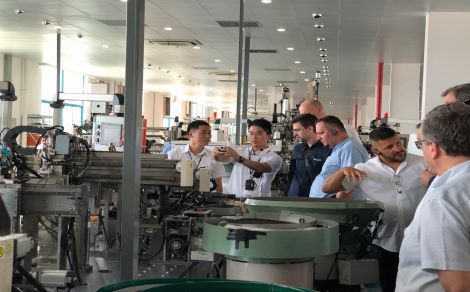 A group of ATC Italia's customers visited the factory of AirTAC International Group in Ningbo, China recently. This trip was organised in order to allow ATC Italia customers to experience the dynamics of a factory that produces around 80 million pneumatic components every year.
During the visit to the productive site, the customers had the opportunity to discover the new products that are planned to be launched in the near future. They also had the opportunity to meet the engineers working in the Research & Development department and see how the products are developed and how the pneumatic components are produced.
Solid relationship
AirTAC's aim is to establish a solid relationship with its dealers by creating a team constantly involved in its growth. The company comments that the trip to China is just one example of the policy it is promoting in order to achieve the goal to be considered a real group.
AirTAC added that it is constantly engaged in creating a strong network with its customers by supporting them with products and advertising material during trade events.
According to AirTAC, the main comment received by its customers after the visit to the production site in Ningbo was "the China trip was amazing". "We really believe this was a fundamental experience for our company and this is the reason why we will promote other trips to China in the future," the company concluded. ATC Italia is the European subsidiary of AirTAC International group.
---