Priority Geotechnical enhances fleet with the addition of EMCI 4.50 rig
20 February, 2020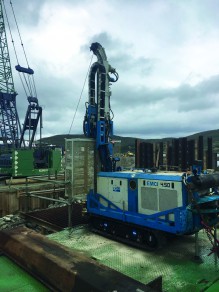 In the search for a smaller, more compact rig to add to its fleet of rigs, ground investigation contractor, Priority Geotechnical Ltd (PGL), has recently invested in the EMCI 4.50. Ground engineering and rock drilling company, Skelair International, assisted with the purchase of the EMCI 4.50 and it has already been used on a variety of projects in a short space of time.
Technical briefing
Due to the size of the rig, the EMCI 4.50 is adaptable and versatile. Designed for projects with restricted headroom or where mobility is restricted, the EMCI 4.50 with its overall height of 3700mm and a stroke of 2400mm has proven to be beneficial for PGL's more complex projects.
Priority Geotechnical Ltd has recently used this rig to complete a variety of projects throughout Ireland, including sites on public roads, hospital environments, overwater platforms and, in particular, sites with restricted access but very specific project sensitive requirements. Working to minimise disruption and to reduce the overall impact of the geotechnical work, the EMCI 4.50's size and performance has proven to be an invaluable addition to the fleet.
Innovative and workable solutions
Timothy McGillycuddy, director at Priority Geotechnical Ltd, commented: "We are always working to develop and provide innovative and workable solutions to our clients. A lot of the rigs we have in our fleet are larger than 3 tonnes and we have been on the lookout for a smaller, adaptable rig for quite some time. The EMCI 4.50, being just 2.7 tonnes is easier to transport, and its size helps us to adapt to even the most versatile environments while continuing to maintain performance and function. We have also been very pleased with the post purchase support provided by both Skelair and EMCI."
Working at depths in excess of 20m bgl and diameters of 140mm in areas of restricted access where larger rigs would represent potential health and safety risks, the EMCI 4.50's compact size has helped to overcome these challenges. The capability to perform multiple techniques including coring, dynamic and percussive sampling, open hole drilling and in situ testing, on a single site with an EMCI 4.50 rig, simplifies day to day work arrangements while offering clients greater options. With less external plant requirements and a smaller overall size, the EMCI 4.50 has helped to complete projects with little disruption and at much lower costs – while at the same time helping to safeguard the workforce and reduce the overall footprint of individual jobs and projects.
Twin hydraulic motor
Steph Keane, sales director at Skelair International, explained: "Understanding the requirements of PGL for a smaller rig that did not compromise on output and was suitable for difficult environments, it was clear that the EMCI 4.50 would be an ideal choice. With a rotary head that has a twin hydraulic motor with a maximum torque of 300daNm and a maximum speed of 480rpm. The 49HP Yanmar diesel engine is more than enough power for the rig's 2780kg weight – acting as an invaluable enhancement to PGL's existing fleet."
---