Superior named best in the south west for apprenticeships
31 January, 2020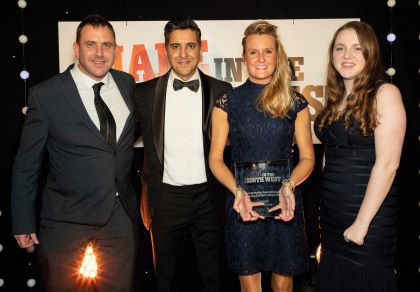 Dorset-based manufacturer Superior has been named as the best manufacturing apprenticeship provider in the south west. Superior, which is based in Ferndown Industrial Estate, scooped the Manufacturing Apprenticeship/Training Scheme Award at the Made in the South West Awards, held in Bristol recently.
The accolade aims to recognise the manufacturing business which is judged to have done the most to further the cause of apprenticeships and general training and upskilling of its staff.
Katie Bodman, head of Training Academy, Liam Stratten, head of training, and Natasha Nichols, one of Superior's apprentices, took to the stage to pick up the trophy. Giving the reasons for declaring Superior as the worthy winners, the event's presenter, Manish Bhasin said: "For the size of the business, they've clearly made an impressive investment in apprenticeships, using apprentices to meet a real business need – bringing roles in-house that were previously outsourced. The judges were also impressed by the breadth of the apprenticeships on offer."
Natasha Nichols, who was announced as Superior's Apprentice of the Year earlier this year, was also listed as a finalist in the Made in the South West Awards Apprentice of the Year category of the awards.
In-house academy
Katie Bodman said: "We are so proud to have won the Manufacturing Apprenticeship/Training Scheme Award. We are pleased to offer a range of apprenticeships at our in-house academy, including manufacturing, accounts, IT, maintenance, business administration and sales, and it is great for this to be recognised by the awards team."
Superior, which was founded in 1972, has its own inhouse Apprenticeship Academy on-site which provides technical training and financial sponsorship for studying up to a master's degree. In 2009, the company recognised an ageing workforce and began to welcome apprenticeship applications. In 2012, it further invested in the next generation by establishing an Apprenticeship Academy to ensure the skills base it requires can be found in the next workforce.
The Made in the South West Awards event showcased manufacturing firms from across the south-west and aimed to champion their commitment to world-class quality and excellence. It also highlighted the diversity of the industry ranging from aerospace and defence to artisan food and drink brands.
---