One show, a thousand solutions
09 January, 2020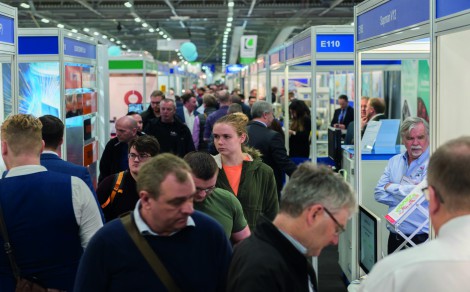 Southern Manufacturing & Electronics returns to Farnborough from 11 to 13 February 2020. The long-established show is the largest annual gathering of engineering firms in the south and a key marketplace for machine tools and other production hardware, components and engineering subcontracting.
Nearly 9000 visitors made their way to Farnborough for the show in 2019, drawn by the outstanding selection of exhibitors, large and small. The 2020 show will yield a similarly expansive selection of participating firms from across the UK, together with a considerable number of international exhibitors from across Europe, Asia and the Far East. With the show now approaching full occupancy of the 20,000m² Farnborough International Exhibition Centre, the organisers are confident of pushing past the previous high water mark.
Big league
One benefit of the show's pivotal importance to the region's engineering supply chain is that it draws the major CNC machinery manufacturers and vendors in numbers. 2020 will be no exception, with an impressive roster of big-league players taking part, including Haas Automation, Yamazaki Mazak, Bystronic, Hurco, XYZ Machine Tools amongst others. Matsuura will demonstrate its best-selling single table 5-axis MX-520 CNC machine tool, machining live, utilising fixtures and work-holding printed on a HP Multi-Jet Fusion 4200 3D printer.
Trumpf returns to Southern Manufacturing 2020, presenting its wide range of sheet metal fabrication machinery and industrial lasers, together with 3D printing systems, power tools and electronics. A vast selection of associated hardware complements the machine tool exhibits, including tooling and workholding from firms such as Roemheld, ITC and Guhring, and precision measurement equipment from Blum Novotest, Faro and Mitutoyo UK.
Hydraulics and pneumatics
Visitors searching for hydraulic and pneumatic components will find much to interest them. CEJN UK offers quick connect solutions for all types of media from compressed air to hydraulics to ultra-high-pressure hydraulics and more.
Lee Products Ltd. will be exhibiting all three ranges of its fluid control components; Microhydraulic, Industrial Microhydraulic (IMH) and its Electro-Fluidic System of miniature chemically inert, solenoid valves and pumps for medical and scientific instruments.
Another well-known name returning for 2020 is BCAS. The firm has over 30 years' experience in compressed air and vacuum systems, and a distributor for some of the leading manufacturers in the industry including CompAir, Hydrovane and Elmo Rietschle. ESI Technology specialises in the design and manufacture of pressure transducers and pressure transmitters used in a variety of applications including oil & gas, subsea, aerospace, defence, hydraulics, process & industrial, test calibration and OEM markets.
KNF Neuberger designs and manufactures high quality OEM vacuum pumps, air compressors, liquid/metering/dosing pumps. All of its pumps are 100% oil-free and designed for the quiet, reliable and efficient transfer of air, gases and liquids. In addition to its standard range, it offers customer-specific solutions and is able to tailor its pumps to suit individual requirements. The show also features more general component suppliers. Transfer Multisort Elektronik is one of Europe's largest distributors of electronic, electromechanical, pneumatic and industrial components, carrying over 250,000 product lines from 950 leading manufacturers.
---
AIR-TECH EXHIBITION


16 April, 2024, 9:30 - 18 April, 2024, 4:00




Hall 9, the NEC, Birmingham, UK

FLUID POWER & SYSTEMS EXHIBITION


16 April, 2024, 9:30 - 18 April, 2024, 4:00




Hall 9, the NEC, Birmingham, UK