BFPA and Fluid Power & Systems 2020
06 December, 2019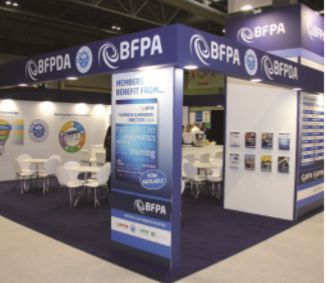 The British Fluid Power Association (BFPA), the only UK trade association for the hydraulic and pneumatic industries, will be exhibiting at the 2020 Fluid Power & Systems at the NEC on 21 – 23 April. The show takes place alongside Drives & Controls, Plant & Asset Management, Smart Industry Expo and Air-Tec, and also MACH, which is the largest Engineering Show in the UK (MACH is owned by the Machine Technologies Association (MTA). The BFPA pavilion is the centre of attraction for all our members who are exhibiting or visiting and acts as a very welcome hospitality venue which is heavily patronised by both exhibiting members and guests. It also acts as a first port of call for potential member customers seeking advice on the availability of various products, technologies and specific company enquiries. Many members also use the BFPA pavilion to hold business meetings and discussions involving several parties, due to the extra space available in the BFPA area or the opportunity to hold a meeting away from their own stands. It's also a very welcome oasis for those seeking a break from staffing their own booths!
From BFPA's point of view, the event also provides an excellent opportunity to network and meet with other target stakeholders such as Government policy makers, overseas visitors and other trade associations in the same commercial 'space.'
For 2020, there will be a BFPDA (Distributors) Zone with low cost booths and pop-up stand facilities. The BFPDA zone will be located in Hall 9 adjacent to the Engineering Forum which will host a range of seminars running throughout the three day event with a good flow of visitors to and fro. The Zone is designed to provide members with the perfect means to have an affordable yet effective presence at the exhibition which itself is part of the biggest UK manufacturing event of 2020. Consisting of eight table top stands each with a floor area of 4m by 2m or 3m by 2m they all have wall panels, BFPDA red carpet, power, a table, two chairs, and a free entry in the Show Guide – everything an exhibitor needs including the location. Given that the visitor attendance to the collocated exhibitions is expected to be over 13,500 this is a great opportunity for BFPDA members.
BFPA is looking forward to exhibiting at FP&S 2020 – if you would like more information on the show or the BFPA and its involvement in the exhibition please contact BFPA on 01608 647900 or email Chris Buxton at ChrisBuxton@bfpa.co.uk
---
AIR-TECH EXHIBITION


16 April, 2024, 9:30 - 18 April, 2024, 4:00




Hall 9, the NEC, Birmingham, UK

FLUID POWER & SYSTEMS EXHIBITION


16 April, 2024, 9:30 - 18 April, 2024, 4:00




Hall 9, the NEC, Birmingham, UK