Vert Rotors to reveal its latest product at Major International Conference in London
01 November, 2019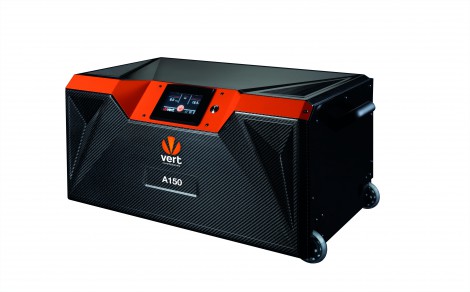 Vert Rotors UK Ltd unveiled its new A150 compressor which features the Vert Conical Rotary Compressor technology at a major industry conference in London last month.
The Scottish firm's A150 – based on its patented Conical Rotary Compressor (CRC) technology – displayed at City University of London which hosted the 11th International Conference on Compressors & their Systems. Industry leaders from around the world were able to see the A150 – designed specifically for operation in areas where low noise and continuous operation is an advantage – in action for the first time.
The biennial convention is a gathering of research organisations, developers, manufacturers, equipment suppliers and users of compressors, expanders, pumps and their systems. It provides a forum for discussion on developments, challenges and opportunities in the gas, refrigeration and air sectors.
The A150 offers 150lpm flow and 10 bar pressure with an optional variable speed drive, all with low levels of noise and vibration to ensure minimal impact on surrounding people and equipment. The portable and compact unit fits neatly under a bench or in a van, so can be sited close to the point of use.
100% duty cycle for maximum productivity
Its combination of benefits is claimed also to include a 100% duty cycle for maximum productivity, meaning that it is capable of running continuously. Connecting to a standard 240V power source with quick coupling of the compressed air connection means it does not require the expensive installation of some other rival compressors.
Phil Harris, chief executive of Vert, said: "Previously thought unachievable, our CRC technology is forging a new path in the industry and this latest A150 product launch demonstrates the benefits of the technology in action."
"We are excited about the potential to exploit its benefits across a variety of markets and are greatly looking forward to putting the A150 on its first public display next week. The International Conference on Compressors & their Systems is an ideal showcase for the latest development from Vert."
Vert was founded in 2013 to develop its conical rotary compressor technology. The technology has won a number of awards since the first working prototype was produced in 2014 and led to Vert securing a Government grant earlier this year from the UK Department of Business, Energy and Industrial Strategy (BEIS).
---
AIR-TECH EXHIBITION


16 April, 2024, 9:30 - 18 April, 2024, 4:00




Hall 9, the NEC, Birmingham, UK

FLUID POWER & SYSTEMS EXHIBITION


16 April, 2024, 9:30 - 18 April, 2024, 4:00




Hall 9, the NEC, Birmingham, UK