Uniflex introduces new hose cleaning device and cutting machines
01 November, 2019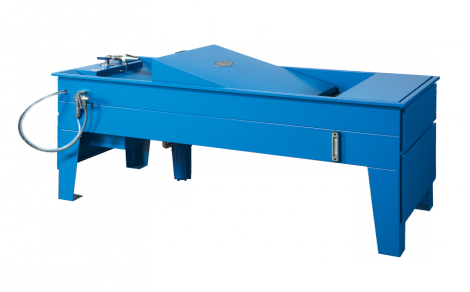 Hydraulic systems demand the highest standards regarding the cleanliness of hose and pipe assemblies. However, abrasion during the cutting and crimping of hoses causes the formation of chips or scales, which must not be present, as specified in ISO 4406 and NAS 1638. Therefore, in addition to its well-established hose crimpers, Uniflex also offers special cleaning devices to solve this problem.
The cost-effective and environmentally friendly table-top RG 10 is a must-have device for hose production workshops. Uniflex has designed the robust RG 10 with its customers in mind. It features a large water tank, diaphragm pump and 10 μm pressure filter. Cleaning is accomplished by a closed water circuit with a neutral cleaning emulsion instead of the ex-pensive pellets that are used in comparable devices from our competitors.
Suitable for all types and sizes of hose and pipe assemblies
With its different-sized flushing heads as standard equipment, the RG 10 is claimed to be suitable for all types and sizes of hose and pipe assemblies up to a 2″ (50.8 mm) inner diameter and up to 20 m hose length. When used in strict compliance with its operating instructions, the RG 10 can achieve the cleanliness required by NAS and ISO specifications. This is essential for hose assembly manufacturers that need to document and verify the level of cleanliness.
The flushing cones direct the non-corrosive water/cleaning emulsion and the down-stream high-pressure air (7 bar) to remove any chips or scales. The robust, 160 kg worktable with its outer dimensions of 2000 x 840 x 1050 mm (L x W x H) offers a working area of 1600 x 800 mm. The tank has a maximum capacity of 215 L, and neutral cleaners and anti-corrosion emulsions can be added to the water as cleaning agents. The pneumatic drive is equipped with a diaphragm pump and 10 µm pressure filter. The drive uses an air pressure of 7 bar with a maximum air consumption of 250 SLM and a flow rate of 180 L/min. As evidence of the robust workmanship and the long service life of the RG 10, Uniflex offers a 2-year manufacturer`s guarantee.
Uniflex has also introduced new hose cutting machines, the EM1 and EM1S. Because high precision is vital in the production and repair of hose assemblies, a wide range of accessories is also offered. Work is easier with the availability of different cutting machines for hydraulic hoses of all size categories. Especially easy is the precise cutting of smaller hoses up to 1¼" diameter with the re-engineered EM 1 cutting machine and the EM 1S variant.
These mobile cutting machines are only slightly bigger and not much heavier than traditional circular cutters and can be secured to the worktable quickly and safely with just two screws.
To enable cutting of larger-diameter hoses, there is a new, easy-to-exchange cutting blade (TM C; for the EM 1S only) and a slightly larger, factory-made baseplate with longer holding pins for simple bending, clamping and fixing of workpieces. Clean and precise cutting of hoses is only a matter of seconds.
Two motor versions (230 and 110 V, 50/60 Hz 1 Phase) of both 'small' cutting machines from Uniflex, the EM 1 for hoses up to 5/8" in diameter and the EM 1S for hoses up to 1¼" in diameter, are available for trouble-free use worldwide. Both devices can be operated with little effort, are supplied with a manufacturer`s warranty of two years and are, of course, EC compliant.
Abdex is the distributor for Uniflex products in the UK.
---