Professor Brian Cox inspires the next generation at the Science Summer School 2019
08 October, 2019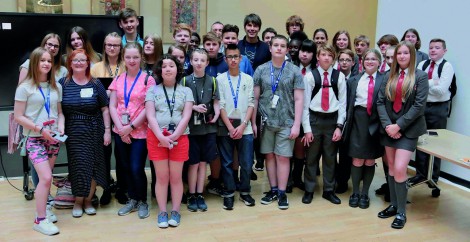 Over 400 young people from over 50 schools across the UK have attended the Science Summer School 2019 in London, an innovative event aimed at inspiring the next generation of Britain's scientists and encouraging them to think about a career in the UK's Science, Technology, Engineering, Arts and Maths (STEAM) industries.
The Science Summer School 2019 was designed to excite and invigorate the younger generation, giving them the opportunity to hear inspirational speakers and engage in seminars and workshops aimed at promoting the fantastic and innovative careers available in STEAM businesses.
Hosted by Professor Brian Cox OBE, the Science Summer School event, which is now in its eighth year, took place at St Paul's Trust School in East London. St Paul's Way lies in the midst of Europe's largest regeneration project that is transforming one of the most deprived areas in Tower Hamlets. St Paul's Way Trust School, which is rated as 'Outstanding' by Ofsted and can boast 100% university acceptance for its students, is at the very heart of this community.
Sponsored by Ibstock and AXA XL, the event was officially opened by social entrepreneur and joint co-founder of the Science Summer School – Lord Andrew Mawson OBE. Lord Mawson welcomed hundreds of 12- to 16-year-olds to the event before introducing Professor Brian Cox to talk about the science behind the theory of relativity and the evolution of the universe.
Inspiration
Annette Forster, group marketing director for Ibstock, said: "We are delighted to be one of the key sponsors of this year's Science Summer School, an event that is all about inspiring young people to open their minds and think seriously about the limitless and exciting opportunities in the UK's STEAM industries.
"As a business at the heart of building, Ibstock is passionate about the recruitment and development of young people and bringing new talent into the building and construction sector. We invest over £1 million a year for example into our highly successful apprenticeship programme, giving people the chance to train for highly skilled roles, gain nationally recognised qualifications and get paid while they learn. Currently, we have 36 enrolled and a further 17 being recruited this September.
"Joining forces to support the Science Summer School further highlights the importance we place on education and developing the next generation of talented individuals that will continue to push the boundaries in our sector for years to come."
Other seminars throughout the day included Andrew Smyth, an aerospace engineer and finalist on the Great British Bake Off 2016, who discussed 'When Baking Meets Engineering', along with speeches from mathematician Dr Steven Le Comber and bioengineer Dr Tina Chowdhury. A range of science, engineering and arts focused workshops complemented the speaker presentations exploring innovative themes including a session with photographic artist Helen Marshall, co-founder of The People's Moon – a global project aimed at uniting humanity by celebrating the fact that 2019 is the 50th anniversary of the Apollo moon landing.
---