MGTS opens new training facility for the food industry
12 September, 2019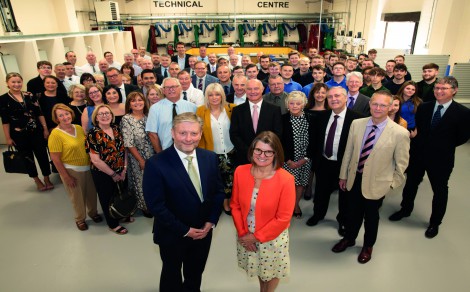 Engineering training provider, MGTS (Midland Group Training Services), has opened a brand new, purpose-built facility for engineering food maintenance and food process manufacturing at its Redditch training centre. The facility was officially unveiled by Rachel Maclean MP. This doubles its capacity to train apprentices in the food industry sector from 50 to 100.
Rachel Maclean MP said: "It was a real honour to open MGTS' new centre today. I was inspired by the apprentices I spoke to who are a real credit to MGTS. They are our future workforce and it's fantastic to see young people in Redditch being trained locally, giving local businesses a highly skilled, high quality pool of talent to choose from."
The company specialise in engineering training, with three sites across the Midlands. The investment in the Redditch training facility has seen an area of 355 sq m (3821 sq ft) devoted to apprenticeship training for the food industry, refurbishing and equipping this space with industry standard equipment. Food industry engineering training was until now only provided at its Reasheath College site.
Exciting opportunities
David Bridgens, MGTS's chief executive, said: "This investment follows discussions with our food industry partners. The UK needs skilled engineers so we're developing the necessary skills and supporting industry to recruit a trained workforce. For apprentices, it really is a fantastic time to pursue a career in food process manufacturing, with plenty of exciting opportunities. It's a win-win for everyone involved."
MGTS train apprentices for some of the country's leading food manufacturers, such as Müller, Arla, Ferrero, Dairy Crest, Morrisons and Heineken. This expansion will help the whole of the food and drink industry to recruit much needed, highly skilled engineers.
James Cubbin, senior manufacturing manager at Morrisons, commented: "Morrisons are excited to be the first company to send apprentices to the new MGTS Redditch facility where they will deliver the fantastic Food and Drink Engineering apprenticeship scheme. We are also looking forward to working closely with MGTS in setting up the new Morrisons training academy where all engineer training and development courses will take place. The proactive support from David Bridgens (chief executive) and Steve Palmer (operations manager) is hugely appreciated and I'm sure this will lead to a successful partnership moving forward."
Challenging step up
Joseph Clark, an apprentice from Pilkington Automotive, based in Kings Norton, remarked: "Coming here straight from GCSEs was a challenging step up, but the support provided by MGTS has been fantastic. The actual training facilities here are excellent, we get hands-on experience with industry standard machines which means it's not such a massive jump when I return to the company."
MGTS already train 800 apprentices at any one time across the whole of the engineering industry. The company have been helping to create 'Engineers of the Future' for more than 50 years, working in partnership with a diverse range of local, regional and national engineering companies, from the automotive, aerospace, medical, food and drink, and manufacturing sectors.
MGTS is now delivering the new standards apprenticeships for the engineering and manufacturing sector, as well as the new engineering technician standard, in product design and development, mechatronics, toolmaking and machining.
---