BVAA's Future Leaders Programme shaping the valve industry's future
05 September, 2019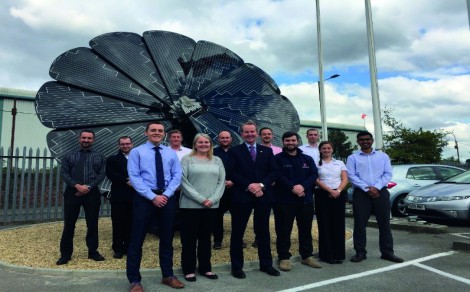 The British Valve & Actuator Association (BVAA) is now well into the fourth year of its Future Leaders Programme (FLP). In 2016, BVAA launched a new programme specially designed to develop a small group of future leaders for the industry. Eleven individuals were identified by their employers as having the right qualities and potential to become leaders within their own organisations. They were put through a range of exercises and activities designed to help them Fast Track their experiences within the industry, ramp up their personal skills and knowledge, but without having to change employers, which in former times many of us had to do in order to advance ourselves.
Such moves are of course very disruptive for the employers and involves a significant element of risk for the employee. The FLP is challenging, however, and latterly BVAA has introduced an objective selection process to ensure the candidates have the necessary competence – and importantly attitude – to successfully complete the programme.
Company Knowledge-Transfer Days
The FLP comprises a series of days set at each one of the candidates' own premises. There, the host and their colleagues educate their cohort in a particular company specialism, activity or area of excellence in which their company excels. Delegates also receive short lectures on products, business systems, methodologies, LEAN, facility tours, etc., increasing substantially their understanding of the wider valve industry.
Personal Development Days
In addition to the dozen or so 'company hosted days', BVAA provides the group with a series of Personal Development (PD) courses to help 'round' the individuals. The breadth and depth of this element has been substantially increased year-on-year such was the positive feedback. This now includes TQ Psychometric testing and Attributes Wheel assessments, helping generate a composite team profile – particularly important as the group works so closely together.
"It is quite possibly the most rewarding activity of my career," said the BVAA's director & CEO, Rob Bartlett. "The programme has had an amazing effect on all those involved in it. I believe we all instinctively knew the FLP had terrific potential, but we've been very impressed by the successes of the first few cohorts, and the tremendous impact it has had on all the delegates since its launch."
Bartlett continued: "Each year we have honed, expanded and improved the FLP content, and the current cohort will be the first to see their efforts recognised by the Institute of Leadership & Management (ILM), as a formal qualification. The truly great thing about the FLP however is that it is not just restricted to the valve industry. Any trade sector or organisation could utilise our model to upskill and retain their own industry workforce."
Guest lecturer and personal development consultant, Dr Martin Haigh MBE, commented: "It has been an absolute pleasure and privilege creating and delivering the learning and development interventions for the FLP. I have witnessed some amazing breakthroughs from the cohorts and was blown away by their confident and seamless presentations at the BVAA Annual Meetings.'
---