Sheet-metal puncher with hydraulic hand pump
08 August, 2019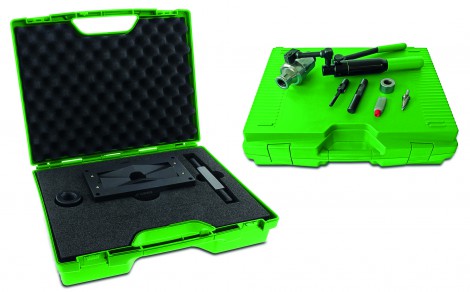 Conta-Clip now offers a combination of a hydraulic hand pump and sheet-metal punching tool. Users can thereby produce breakouts in control cabinets for KDSClick, KDS-FB, KDS-KV, and KES cable entries within a few minutes.
The hydraulic hand pump contains no hose and features a user-friendly, compact design. It weighs only 2 kg. The hydraulic cylinder can be rotated and swiveled by 360° along three axes, allowing for flexible use even in hard-to-reach places.
The punching tool includes round hole punchers for all diameters from M20 to M63 for KDS-KV separable cable glands and square and rectangular hole punchers for all KDSClick, KDS-FB, and KES cable entries as well as for 110 by 131 mm KDS-FP flange plates. In order to create a break-out in a sheet-metal enclosure, the hydraulically operated draw bolt is inserted in a bore hole. Next, stamp and matrix are fixed with counter nuts both on the inside and outside.
When operated, the draw bolt pulls stamp and matrix towards each other, producing the opening in the required size. The built-in punch-hole marking tip can be used to clearly punch-mark the drill points for screw-on attachment of the cable entry. Stamps are available for 3 mm sheet steel and 2 mm stainless steel.
---