GenAir continues to invest in hire fleet
26 July, 2019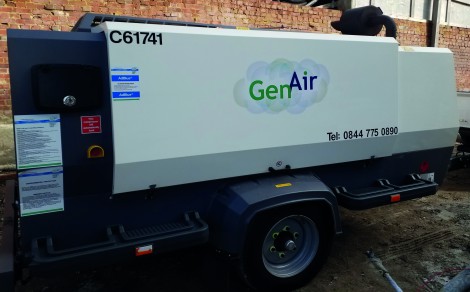 GenAir UK, hirer of compressed air systems and desiccant dryers, is continuing to invest in its hire fleet of advanced low-emission compressed air systems. The company has placed orders for an additional 40 diesel-driven sets, all compliant with the London Low Emission Zone (LEZ) regulations.
GenAir UK now has over 70 sets in its rental fleet. LEZ is a traffic pollution charge scheme with the aim of reducing the exhaust gas emissions of diesel-powered commercial vehicles in London and is set to be rolled out to other major UK cities in the near future. LEZ from non-road mobile machinery (NRMM) will be introduced in parts of London in September 2020.
The new GenAir compressors comprise ten 260cfm, twenty 400cfm and ten 600cfm sets. All of these units are fitted into weatherproofed, noise attenuated canopies, making them well-suited to deliver safe, powerful compressed air for a variety of applications. Their built-in after coolers and water separators help to eliminate up to 70% of moisture, delivering superior air quality for much improved performance. The operation of these compressors dispenses with the need to complete NRMM registration. Chalwyn valves and spark arrestors can be fitted to use in sensitive environments including petrochemical plants.
David Timmins, GenAir UK's managing director, said: "This is an on-going investment programme that will eventually reach upwards of £4 million. This is driven entirely by demand; we are sending our machines to all corners of the UK and far beyond."
---