New control option for MZR micro-annular gear pumps
23 July, 2019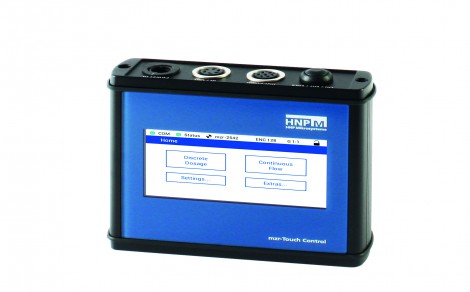 Accurate and reliable, pulse-free pumping of liquids is essential in many laboratories and critical low flow applications, and a new combined drive and control module provides users with a simple touch control option of controlling miniature, positive displacement pumps. The MZR Touch Control module introduced by HNPM Mikrosysteme complements the six series of MZR micro-annular gear pumps which are available through UK pump specialists Michael Smith Engineers.
The Touch Control Module features a simple and clear graphical user interface which supplements the present control of MZR dosing pumps via a laptop or PC and can be used for most MZR pump sizes and series with low to medium power drives.
This compact, yet robust module is constructed from high quality diecast aluminium measuring just 147mm (L) x 141mm (W) x 37mm (H) and enables easy and versatile operation of micro-annular gear pumps. Users can select dosage volumes ranging from 0.25µl and flow rate ranges of 1µl / min up to 288 ml / min.
A range of accessories is also available which enables users to adapt the controller and pump performance to suit specific application requirements. For example, a holder for MZR Touch Control and low-pressure pump assemblies, pump assemblies with filters and valves, a manual switch which can be operated by hand or foot, an input pen and a stand clamp.
The Touch Control Module further enhances the performance and adaptability of MZR micro-annular gear pumps which are ideally suited to handling a variety of different liquid media and viscosities, delivering accurate, pulse-free pumping. Applications include challenging roles in chemical, medical and pharmaceutical processing, biotechnology. Ink and paint dosing, portable power sources, fuel cells and aerospace. ENDS
www.michael-smith-engineers.co.uk/products/hnpm/controllers
---
AIR-TECH EXHIBITION


16 April, 2024, 9:30 - 18 April, 2024, 4:00




Hall 9, the NEC, Birmingham, UK

FLUID POWER & SYSTEMS EXHIBITION


16 April, 2024, 9:30 - 18 April, 2024, 4:00




Hall 9, the NEC, Birmingham, UK