Andrew Fraser Pump and Engineering on track to become a major British manufacturing success for radial piston pumps
16 July, 2019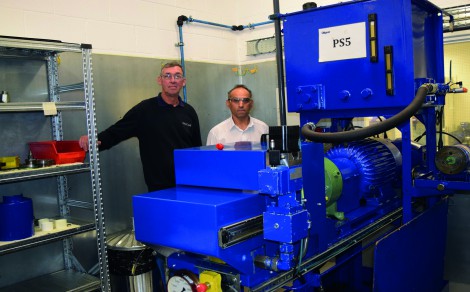 A new company, Andrew Fraser Pump and Engineering, has been founded by director & CEO Amarjit Chana after acquiring the Andrew Fraser business from Oilgear Towler. Andrew Fraser Pump and Engineering has taken over the all IPR and trademarks for the Andrew Fraser equipment.
Andrew Fraser Pump and Engineering will be the first company in the UK to produce radial piston pumps since Andrew Fraser and Co Ltd. Amarjit Chana explained that it was vital to keep the Andrew Fraser brand in the UK and not be acquired by overseas companies.
The company has also acquired the manufacturing and test capability to design and manufacture the Andrew Fraser equipment, operating from Leeds, West Yorkshire. Andrew Fraser Pump and Engineering will produce a range of radial piston pumps to support new emerging industries while supporting its current employer base. Andrew Fraser and Co was first formed in 1945 in Aston House, Aldwych, London. Its core business was the design and manufacture of mono-radial piston pumps and associated equipment. The company served a wide range of market sectors including energy (power stations) jacking pumps, oil refiners, hydraulic presses and marine. Market coverage was international, covering North and South America, Asia and Africa and Europe.
Wide portfolio
Andrew Fraser was acquired by Towler Hydraulic in 1981 and Towler Hydraulic was then acquired by Oilgear Ltd in 1985. Andrew Fraser offers a wide product portfolio, including high pressure pumps and motors and control valves. In the 1960s, Andrew Fraser radial pumps became a popular choice for a wide range of industries including power stations and refineries.
Amarjit Chana explained the background leading to the acquisition and formation of the new company. "I was running Fraser Pumps and working with Oilgear, and when Oilgear made the decision sell IPR for the Andrew Fraser 'mono-radial' equipment I was keen to acquire both the IPR and the machining facility and save a number of people's valuable specialist jobs in the process. My vision for Andrew Fraser Pump and Engineering is to realign the Andrew Fraser brand to new applications and markets while supporting and consolidating its current market share."
He continued: "I also plan to develop the company's distribution chain to provide access to Andrew Fraser equipment, while providing fast response times and excellent aftersales care and support for customers. Additionally, my team and I are keen to develop technology-led product development in collaboration with high education partners. We really want to make a major success of this company as a totally British brand and grow employment within this specialist sector."
---