Pirtek Bristol drives progress at Whirlpool
23 April, 2019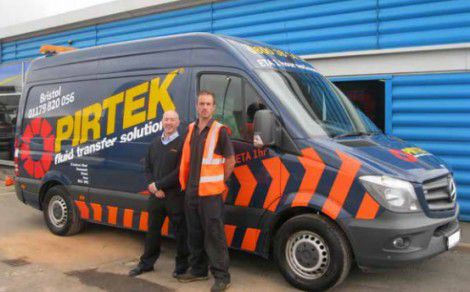 Since 2018, Pirtek Bristol has been working at Whirlpool's tumble dryer factory in Yate to improve the efficiency of its hydraulic systems through data-led preventative maintenance.
Darren Squire, franchisee of the local hydraulics maintenance firm suggested Whirlpool to his sales manager, Jason Greenwood and it was perfect timing when Matthew Wyatt took hold of the white goods company's maintenance.
Wyatt said: "For a UK manufacturer, reliability, efficiency and performance is critical. We employ around 400 people here and operate four 600-tonne hydraulic multi-stage forming presses. We were looking for a supplier that was able to deliver timely and effective hose fitting, a hose register and total management of preventative maintenance. Pirtek was offering exactly what we wanted.
"There have been few surprises and component failures have been forecast, budgeted and paid for prior to fitting. We now have a full hose register and we can pick up the phone and request a hose from Pirtek and know they've got the right material on the van to bring out within an hour callout. We don't need to hold any stock."
Total control
Greenwood said: "At Pirtek we have the right stock in the right place to do a professional job in a timely manner. We know every single hose on site – we date all of them and refer to that list to say when they need inspecting and changing. We control them rather than them controlling us.
"We have the stock, our MSST is on standby and if a breakdown comes along, he's here within the hour and the parts are replaced. That's what Pirtek does – one-hour hose replacement and preventative maintenance. The focus of our efforts here was to reduce downtime and I think that has been wholly effective so far."
Wyatt agreed. "The condition of the machinery has massively improved since we began working with Pirtek. I would say leaks have reduced by 90 per cent in that time. That's a massive improvement."
Greenwood summed up: "We've changed from a reactive to a proactive approach. Everything is now professional maintenance rather than breakdown reaction."
---