Bürkert UK £1 million ex-stock expansion
17 April, 2019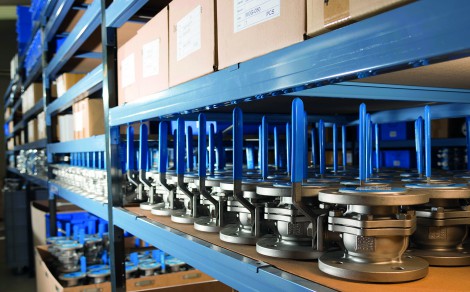 Aiming to minimise the complexity of process control projects in a number of industries; from water to food & beverage and pharma, Bürkert UK has massively increased its product range and its UK stock-holding for standard everyday process products.
Bürkert now holds a wide variety of the more common valve designs including ball valves, butterfly valves and quarter-turn valves in standard sizes on the shelf. This increase in the product line represents a considerable investment in stock-holding, with over £1 million worth of stock now held in the UK, to compliment industry recognised angle seat, globe and control valve packages.
Neil Saunders, Bürkert UK's general manager, said: "Quite simply we are adding convenience for our customers by offering more of what our systems customers and distribution partners want on a same day / next day availability basis.
"Bürkert offers over 100,000 catalogue items from commodity solenoid valves to high-precision food and pharmaceutical grade products, however while lots of the clever, problem solving items we are famous for are made to order, there are also standard valves required for almost any project. They don't have exotic specifications and tend to be sourced when they are needed. If customers can have a Bürkert model, available straight away, then the quality and the brand reputation that goes with that is an added bonus for them."
Cost-effective solutions
Cost pressures are everywhere, so conformity of fit and compatibility can make a big difference in ensuring a process automation project is commercially successful. Hence, all our new products complement the existing range of more specialist valves and are designed to work in harmony with Bürkert's numerous pneumatic and electric actuators and control heads. Every product is quality audited and built to the highest standards with full traceability of materials and certifications provided on request.
This improved product offering enables Bürkert to deliver a more comprehensive solution, especially for larger scale projects where consolidation of supply is a significant factor. Now, Bürkert can provide a cost-effective package that is supported by expert design and specialist application knowledge, as well as on-demand supply of more general-purpose process valves for water, steam and air.
This reduces costs for project teams and greatly simplifies the purchasing process by involving much fewer vendors and cutting the number of purchase orders that need to be raised. Other savings can also be made thanks to Bürkert's knowledge and expertise being applied to a much greater part of the installation
Real-world savings example
The principle is neatly illustrated by a recent project for a biotech company that previously had only used Bürkert to supply its specialist products. The original quote was for several ball valves with actuators, integral pilot valves and feedback switches for use in Zone 1 (potentially explosive atmospheres), all from stock.
---