Telescopic cylinders for industrial lifts in confined spaces
10 April, 2019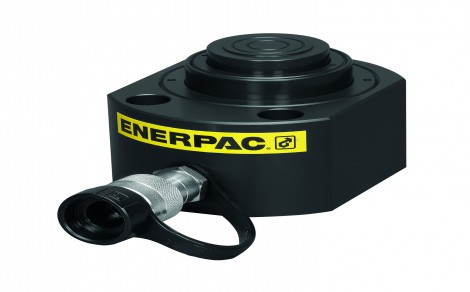 Enerpac has introduced the RLT-Series range of low-height telescopic hydraulic cylinders for applications requiring a long cylinder stroke in confined spaces commonly found during machinery positioning and tool fastening. With a lifting capacity of 4.4 to 74.1 ton, the low-height cylinders are available with two or three pistons and can lift loads up to 40 mm (1.57 in.) in a single movement.
Constructed from high-alloy steel for maximum strength, the RLT-Series is a single-acting, load return, cylinder. The longer stroke length of the telescopic cylinders will save time and simplify projects by eliminating the need for temporary cribbing.
Corrosion protection
With up to 3% side-load of maximum capacity, the cylinders feature mounting bolt holes for easy fixing and a nitrocarburised surface treatment inside and out to provide corrosion protection for safe use in the harshest conditions.
The RLT-Series provide a three-stage lift and include a CR400, high flow hydraulic coupler, female half, as standard. The cylinders' design safety factor complies with ASME B30.1 and EN1494.
"The RLT-Series low-height telescopic hydraulic cylinders are a significant addition to our range of lifting systems," said Fred Weber, commercial marketing manager, Enerpac ESSA. "They provide a safe way of lifting heavy loads where previously engineers might have struggled to find a simple and effective way for lifts in confined spaces."
---
AIR-TECH EXHIBITION


16 April, 2024, 9:30 - 18 April, 2024, 4:00




Hall 9, the NEC, Birmingham, UK

FLUID POWER & SYSTEMS EXHIBITION


16 April, 2024, 9:30 - 18 April, 2024, 4:00




Hall 9, the NEC, Birmingham, UK