INWED is 'transforming the future'
02 April, 2019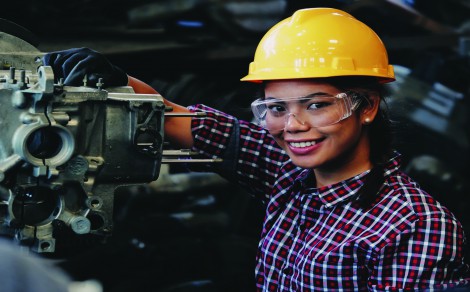 Sunday 23 June will mark 2019's International Women in Engineering Day, when participants will be encouraged to show the world how they are 'transforming the future' in pursuit of more diversity in engineering.
Global awareness
This global awareness campaign, coordinated by the Women's Engineering Society (WES), aims to increase the profile of women in engineering worldwide and focus attention on the compelling career opportunities available to girls in engineering and related industries.
In 2019, WES' own centenary year, INWED will aim to inspire even greater participation across the globe, both online and through physical activities, by individuals, schools, colleges, groups and organisations. The theme will be supported by the hashtags #INWED19 and #TransformTheFuture. This year will be INWED's sixth outing.
Another important part of the INWED celebrations is the annual 'Top 50 Women in Engineering' (WE50) awards, made possible through a partnership between the Women's Engineering Society and The Telegraph. The winners of these coveted places will be announced to coincide with INWED19 celebrations. This year's focus of excellence will be revealed on 8 March, International Women's Day.
Sponsorship
There are several early sponsors on board for INWED 2019, including; Boeing, Cranfield University, GCHQ, Institute of Healthcare Engineering and Estate Management (IHEEM), Mercedes-AMG Petronas Motorsport, NSIRC, OPITO & Royal Academy of Engineering. INWED can only continue to flourish with the support of these types of forward-thinking organisations.
Dawn Childs, president of WES, said of INWED19: ''This is the centenary year of the Women's Engineering Society and we will be celebrating the rich history of many inspirational ladies who have made their mark in the engineering world. However, there are still far too few women who even understand what engineering is let alone choose to become an engineer. International Women in Engineering Day is therefore so important to raise the profile and awareness of the fabulous opportunities that a career in engineering can bring.
"This year it is more pertinent than ever because our theme is 'transform the future' and so many forms of engineering do exactly that. So not only do we want to transform the future for girls and women by encouraging them to start a career in engineering or supporting them to excel and thrive in their current engineering career, but we will of course also be transforming the future of so much more with the engineering that they will do. So please participate in events or initiatives with us for INWED and help us to transform the future.''
---
AIR-TECH EXHIBITION


16 April, 2024, 9:30 - 18 April, 2024, 4:00




Hall 9, the NEC, Birmingham, UK

FLUID POWER & SYSTEMS EXHIBITION


16 April, 2024, 9:30 - 18 April, 2024, 4:00




Hall 9, the NEC, Birmingham, UK