Enerpac launches ZC-Series cordless pumps
15 March, 2019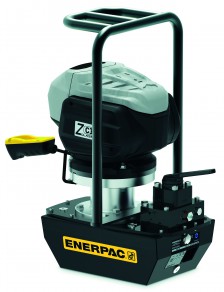 High-pressure hydraulic tools specialist, Enerpac, has introduced the ZC-Series cordless hydraulic pump combining the performance of an electric pump with the convenience and portability of a battery pump.
The ZC-Series is claimed to be ideal for jobs that require a combination of portability, speed and safety. These cordless pumps work well for remote locations without access to power and indoors where trip hazards, ergonomics or size is a concern. The ZC-Series pumps are suited for use in industrial applications such as foundation repair, rail maintenance and concrete post-tensioning. Since this cordless solution is quiet, it is also said to be ideal for applications where noise and emissions from gas powered equipment are a concern.
Maximised pump and tool productivity
The ZC-Series is a high-flow cordless pump that can save users time and money by eliminating the need for a generator and extension cords. Enerpac comments that the brushless 1.4 hp motor and 3-stage pump maximises the pump and tool productivity while minimising heat build-up and downtime. Power for the pump is supplied by a rechargeable 82V lithium-ion battery. The lithium-ion battery provides superior run time, even under extreme job site conditions.
Valve options for single and double acting tools with the ZC-Series pump include: 3-way, 3-position manual control valve used with single-acting cylinders, 4-way, 3-position manual control valve used with double-acting cylinders and 4-way, 3-position manual control valve with locking and power seat functions.
---