The expanding Jubilee clip
14 March, 2019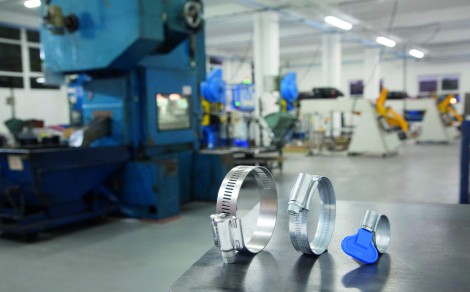 Due to major expansion, Jubilee Clips has moved back into a factory building that has been dormant for over a decade.
Back in 2006, Jubilee Clips acquired a new site by the river Medway in Gillingham, able to accommodate all manufacturing and technical facilities of the group in a single location for the first time since the company was founded in 1921.
In the years since the move to the new site, Jubilee managed to sell the majority of its old buildings but held on to the Jezreels Tower Works site on the A2 in Gillingham, always mindful that the large building may be useful again sometime in the future.
With demand constantly on the rise as well as Jubilee continuously investing in modern production machinery over the past 10 years, even the current site became too small and the decision was made to revive the old factory site, which is steeped in history.
The building was built on the site of the Jezreel's Temple, the former place of worship of the Jezreelites, which was demolished in 1961. The current Jezreels Tower Works was initially used as an electro-plating works and was acquired by L Robinson and Company, the parent company Jubilee Clips, in the late 1960s.
Modernisation
Over the past year, work has been carried out to modernise facilities on the inside and outside of the building to bring it up to standard of a 21st Century manufacturing site.
During the August shutdown period, most of Jubilee's heavy-duty machinery was moved to the Jezreels factory, leaving more space at the main Owens Way site to be filled with state-of-the-art machinery to streamline its hose clip assembly process, as well as production machinery for new product lines. Jubilee Clip's latest additions include 316 stainless steel Multiband and the Flexiband band and buckle system and plans on further growing its product range over the coming years.
---
AIR-TECH EXHIBITION


16 April, 2024, 9:30 - 18 April, 2024, 4:00




Hall 9, the NEC, Birmingham, UK

FLUID POWER & SYSTEMS EXHIBITION


16 April, 2024, 9:30 - 18 April, 2024, 4:00




Hall 9, the NEC, Birmingham, UK