HydraForce's Daniel Millington wins 2018 UK Advanced Apprentice of the Year
01 March, 2019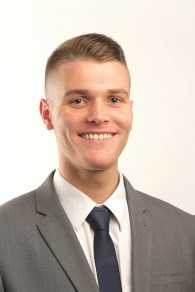 Daniel Millington of HydraForce Ltd, the Birmingham-based manufacturer of hydraulic valves and manifold systems, has won the award for Advanced Apprentice of the Year for the UK.
The National Apprenticeship award ceremony that took place recently at the Old Billingsgate in London, saw Millington compete against eight other competitors in his field, including apprentices from companies such as BT and Royal Mail:
After receiving the Rolls-Royce sponsored award, he commented: "I'm thrilled to have won the award. It was a huge shock and such an amazing feeling when my name was called out. I was up against some really large companies and some extremely talented apprentices, so it shows what I've been doing at HydraForce is really having a significant impact."
Millington, who graduated from his advanced engineering apprenticeship last July, a year earlier than expected, won the Birmingham hosted Regional Advanced Apprenticeship Awards for the Midlands in September, which led him to be shortlisted for the Nationals.
Right attitude, commitment and hard work
Millington's manager, Michael Gillbee – manufacturing engineering manager at HydraForce – said: "We are very proud of Daniel's success at the National Awards this week and that he has received great recognition for his studies. It takes a lot of effort to work whilst simultaneously attending university, but Daniel doesn't shy away from these challenges. He has shown that with the right attitude, commitment and hard work, you can achieve anything."
After completing his apprenticeship, Millington was promoted to position of engineering technician and HydraForce sponsored him when he decided to undertake his Engineering Foundation Degree. He is now in his second year of studies at Birmingham Metropolitan College, working towards full honours degree.
He is also an ambassador for young apprentices throughout the Midlands, as part of the West Midlands Apprenticeship Ambassador Network (WMAAN), which helps young people to start their careers and mentors the company's younger apprentices.
HydraForce's engineering advanced apprenticeship scheme began in 2004 and sees apprentices study at college full-time for their first year. In their second year, they gain valuable work experience on-site at HydraForce in different areas of the business, with a day release to college to continue their studies. The current apprenticeship scheme gives the candidates the opportunity to achieve their BTEC, with the company sponsoring them to go onto either HNC or Foundation degree. During 2018, the company took the decision to broaden its apprenticeship scheme and now offers management apprenticeships to its employees as part of their professional development.
---
AIR-TECH EXHIBITION


16 April, 2024, 9:30 - 18 April, 2024, 4:00




Hall 9, the NEC, Birmingham, UK

FLUID POWER & SYSTEMS EXHIBITION


16 April, 2024, 9:30 - 18 April, 2024, 4:00




Hall 9, the NEC, Birmingham, UK