Manufacturing output picks up
30 January, 2019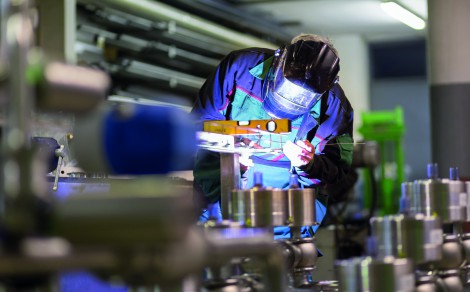 Manufacturers reported that output growth picked up in the three months to December, according to the latest monthly CBI Industrial Trends Survey.
The survey of 346 manufacturers found that output growth picked up in the three months to December, rising further above the long-run average. Output expanded in 15 out of 17 sub-sectors, with growth driven predominantly by the food, drink, & tobacco, mechanical engineering, and chemicals sub-sectors. However, firms expect output growth to slow somewhat over the next three months.
Total order books remained firm in December, staying well above their long-run average. Export order books improved noticeably and are now at their strongest since January 2018.
Expectations for output price inflation were slightly higher in December, above the long-run average. However, they remain below the highs seen at the turn of 2018. At the same time, the level of stocks was reported to be broadly adequate, having generally remained at this level since July.
Headwinds
While UK manufacturers should continue to be supported by firm global economic growth and a low sterling exchange rate, subdued domestic momentum and ongoing Brexit uncertainty will pose headwinds to manufacturing activity.
Anna Leach, CBI Head of Economic Intelligence, said uncertainty over Brexit still casts a long shadow over manufacturing and the rest of the economy. "Politicians must finally stop the endless infighting and come together to secure a workable solution, or we're in danger of edging closer to a no-deal Brexit," she said.
Tom Crotty, group director of INEOS and Chair of the CBI's Manufacturing Council, said it was encouraging to see the resilience of the UK's manufacturing sector shining through. "However, firms are under no illusion that a failure by the government to secure a viable Brexit solution would bring further uncertainty in 2019," he remarked.
Key findings:
• 28% of manufacturers reported total order books as above normal, and 20% said they were below normal, giving a balance of +8%. This was above the long-run average (-13%) and broadly similar to that in November (+10%)
• 27% of firms reported their export order books were above normal, and 13% said they were below normal, giving a balance of +14% – above the long-run average of -17%, and the highest since January 2018 (+19%)
• 40% of firms said the volume of output over the past three months was up, 17% said it was down, giving a balance of +23%. This exceeded the historic average (+4%) and marked a further pick-up in growth from November (+18%)
• 32% of manufacturers expect output to grow over the next three months and 18% expect it to decrease, giving a balance of +14%
• Expectations for growth in average selling prices for the next quarter (+14%) were higher than in November (+9%)
• 15% of firms said their present stocks of finished goods were more than adequate, while 17% said they were less than adequate, giving a balance of -2%, below the long -run average (13%)
---