Schaeffler engineers bearing solution for vertical lift bridge
18 January, 2019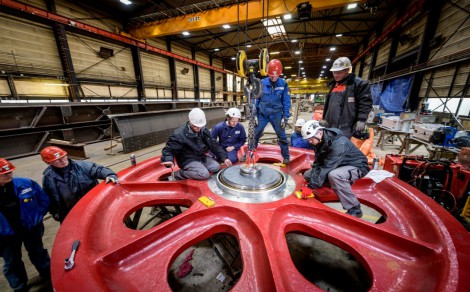 Schaeffler has engineered and supplied 67 cylindrical roller bearings for one of the busiest and geographically important bridges in The Netherlands.
The Botlek bridge opened in 2015. However, after one year of operation, noise and vibration were identified in the pulley arrangement. Investigation revealed that the bearings were damaged and needed to be re-engineered. This was when Schaeffler became involved and engineered a bearing solution to get the bridge operating again.
Bridge opens 9000 times a year
Botlek is the petrochemical district of Rotterdam, located west of the Oude Maas river. It is connected by the A15 motorway, the gateway to the European hinterland. Construction of the bridge, which is the centrepiece of the A15, began in mid-2011 and was completed four years later in July 2015.
The vertical lift bridge comprises four lanes of traffic plus two hard shoulders and a double-track railway line. Despite its huge dimensions, the bridge can open and close in just 109 seconds, allowing both river and road traffic to pass smoothly. With two spans each measuring 87.4 metres in length and a width of 49 metres, the weight to be lifted is approximately 5000 tonnes on each side. In addition to the weight to be moved, the bridge also opens around once every hour – an impressive 9000 times per year.
One of the most important factors is the speed: it takes just 109 seconds for the lifting spans to cover the entire 31 metres of travel when being raised or lowered. The maximum lift speed is 43.5 cm/s.
Each of the bridge's cable sheaves is supported by a specially-designed, two-row cylindrical roller bearing with an outside diameter of 900mm and a weight of 800kg.
To ensure optimum load distribution within the bearing, the two rows are matched with the highest standards of accuracy. Axial loads that occur can easily be supported by the rollers, which feature a specially profiled end face to the bearing rib, and all bearings are marked with a serial number to ensure full traceability.
The bearings are lubricated with Arcanol LOAD460 high performance grease, which has successfully proven itself in wind turbines and other large bearing applications. This grease is specially developed to withstand high loads and wide temperature ranges, as well as to provide excellent water resistance and corrosion protection.
---