Doosan DX225SLR-5 super long reach excavator
20 November, 2018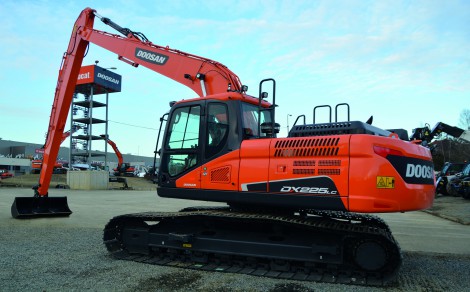 Doosan Construction Equipment has launched a new super long reach version of the company's Stage IV compliant DX225LC-5 crawler excavator.
Featuring 8.5 m boom and 6.2 m arm components, the new DX225SLR-5 excavator is an all-round machine, ideally suited for jobs such as excavating lakes, cleaning settling banks, drainage work, digging in sand and gravel pits, slope forming and other long reach work.
To carry out these applications, the DX225SLR-5 has a maximum digging reach of 15.38 m, a maximum digging depth of 11.65 m and a maximum digging height of 13.08 m. The bucket digging force is 10.0 tonne and the arm digging force is 6.0 tonne.
With an operating weight of 24.4 tonne, the DX225SLR-5 is powered by the well-proven 6-cylinder, turbocharged Doosan DL06P water-cooled diesel engine, providing a high-power output of 124 kW (166 HP) at 1800 RPM. As a result, the DX225SLR-5 combines its super long reach capability with high performance, operating features, fuel efficiency, reliability and durability.
Convenience and lower costs
The DX225SLR-5 offers convenience and lower costs by meeting Stage IV emission regulations through the use of cooled exhaust gas recirculation (EGR) and selective catalyst reduction (SCR) after-treatment technologies. With the DL06P engine, the DX225SLR-5 ensures trouble-free performance as it operates without the need for a diesel particulate filter (DPF).
As well as the DL06P engine, which is one of the most reliable and fuel efficient ever produced by Doosan, new innovative and exclusive features have been introduced providing an overall 9% increase in fuel efficiency. Among these features is the new 'Trip Meter Setting' screen which allows operators to check fuel consumption daily (or over a desired period) directly from the control panel and to save even more fuel, there is a special Doosan-developed system, Smart Power Control (SPC), to optimise the balance between the pumps' output and the diesel engine.
The Auto Shut-Off feature saves on fuel and warranty hours. When the feature is enabled, the engine shuts down after it has been idling for a specified amount of time (3-60 minutes, configurable by the operator).
The DX225SLR-5 is factory-installed with the DoosanConnect state-of-the-art, wireless fleet and asset management system for the company's excavator, wheel loader and articulated dump truck ranges.
Designed to meet increasing demand for fleet monitoring, machine-to-machine communication, machine intelligence and remote equipment monitoring, the DoosanConnect system offers a web-based fleet management solution which is very useful for monitoring the performance and security of machines and promoting preventative maintenance. It is available as a standard feature on all new generation Doosan Stage IV compliant excavators (from 14 tonne), all new generation Doosan Stage IV compliant wheel loaders and the new generation Doosan Stage IV compliant ADTs.
The new service allows owners and dealers to remotely monitor and communicate with Doosan machines via the DoosanConnect telematics website. Also available for retro-fitting in a kit form, the DoosanConnect system is supplied with a free 3-year subscription and customers are provided with their own account so that they can manage the machines in their fleet using the system. Once the 3-year complementary period expires, customers have the option to purchase a service extension.
---