British Gear Association offers training to AEMT members
08 November, 2018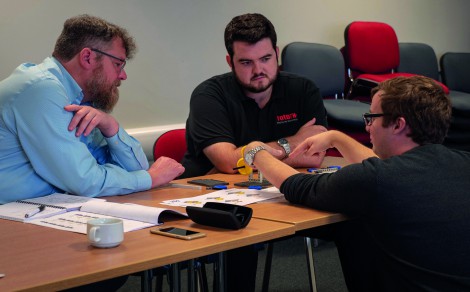 The Association of Electrical and Mechanical Trades (AEMT) has been looking for ways to expand the training offering available to members.
Teaming up with the Newcastle based British Gear Association (BGA) means that AEMT members can take advantage of the excellent training courses put together by the association at a reduced rate.
The AEMT was founded in 1945. It is an International Association representing leading companies in the electrical and mechanical service and repair industry. Members manufacture, distribute, install, service, maintain and repair electric motors and ancillary equipment. Most members operate mechanical engineering workshops for metal fabrication and the repair and refurbishment of worn components such as geared machinery.
Based on the University of Newcastle upon Tyne's campus, the BGA was formed as a conduit to raise the Power Transmission industry's profile along with the companies and individuals it represents. The BGA is well represented on British and International Standard committees, providing the chairman of the British Standards Institution's MCE/5 Committee on Gearing and the chairman to ISO TC60 sub-committee SC1. They are the leading providers of gear related training in the UK.
Courses are well-attended within the power transmission industry and the association offers introductory classes to more in-depth specialist training. Most courses are CPD accredited, contributing to an individual's professional development.
Comprehensive understanding
Thomas Marks, secretary to the AEMT, said: "AEMT members are increasingly handling gearboxes in their mechanical workshops, so having a comprehensive understanding is necessary for them to provide the high-quality service expected from an AEMT service centre.
"Through this partnership, AEMT Member companies will now find it even easier to acquire an understanding of the design principals and fabrication methods of gearboxes, as well as learning to recognise gear wear and failure."
Courses that AEMT members should be particularly interested in are the Gear Wear & Failure Recognition on 7 March 2019; Gear Stress Analysis on the 9 and 10 April 2019; Bearings & Condition Monitoring on 24 April 2019; Gear Measurement on 7 and 8 May 2019. A full list of courses can be found in the Events section of the BGA website: www.bga.org.uk.
[
---