New FLeX Series solenoid-operated relief valves from Sun Hydraulics
06 November, 2018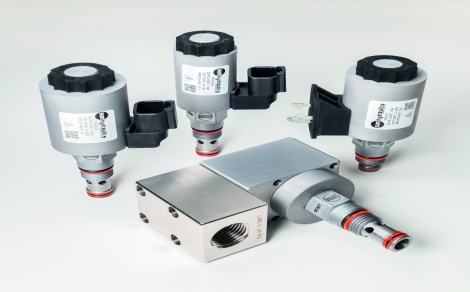 Sun Hydraulics has launched four completely new relief cartridge valves for the mobile and industrial hydraulics marketplace.
These new relief valves have a 2-stage, field-adjustable design and offer precise and dependable pressure regulation with up to 25-gpm (100-L/min) flow rates. Identified as the RVC* Series, they are the only family of relief valves on the market that offer fully adjustable, ventable and blockable relief functions.
In relief mode, these balanced piston valves open to tank (port 2), throttling flow to regulate the pressure when the pressure at the inlet (port 1) reaches the setting, which is adjustable. Energising the solenoid activates or deactivates the relief function.
• Model RCVK: normally vented, energise to relief.
• Model RVCL: normally in relief, energise to vent.
• Model RVCM: normally in relief, energise to block.
• Model RVCN: normally blocked, energise to relief.
The RVC* Series was designed to reduce the complexity and improve the reliability and safety of your hydraulic system. They combine the functionality of two valves in one body and one cavity, reducing materials and helping to create a more compact and efficient system. A 150-micron stainless steel screen protects the main stage orifice for extended product life. The adjustment screw is leak-free and contains a mechanical stop, offering safe, reliable field adjustment.
The new RVC* Series are ideal in fixed displacement pump applications. Each model in the RVC* valve family presents a distinct advantage to specific hydraulic systems:
• RCVK: Use for pump start-up to unload until pressure is built, eliminating stress on the system, then energise during operation.
• RVCL: Allows the user to energise at start-up and de-energise during operations to keep power consumption lower during use.
• RVCM: Ideal in circuits that require two pressure settings, one with a high setting at acceleration, and one with a setting that is constant. The RVCM regulates pressure throughout.
• RVCN: Use the relief function to preload the cylinder and avoid decompression shock in systems built for high capacities.
These relief valves join the existing FLeX Series solenoid-operated directional and proportional flow control valves. As Sun continues to grow the FLeX Series, the same goal remains – to provide high-performance solutions at market prices.
• Designed and tested to 10-million operational cycles at full rated pressure.
• Zinc-nickel plating for 1000-hour salt fog protection.
• Interchangeable coil options.
• RVC* valves available in 15-gpm (60-L/min) and 25-gpm (100-L/min) nominal flow rates.
All FLeX Series valves incorporate Sun's floating-style design. The RVC* valve family utilises both Sun's 740 Series high-power and 747 Series hazardous location coils. A wide variety of coil termination and voltage options are available, with and without surge protection. The 740 Series high-power coils come in several VDC and VAC variations with DIN or Deutsch connections. Sun's 747 Series hazardous location coils are globally certified and CE compliant. A variety of voltage and connection options are available.
FLeX Series relief valves are available for order immediately through the global Sun Hydraulics Authorised Distributor network.
---