Duable space-saving bearingless encoders
01 November, 2018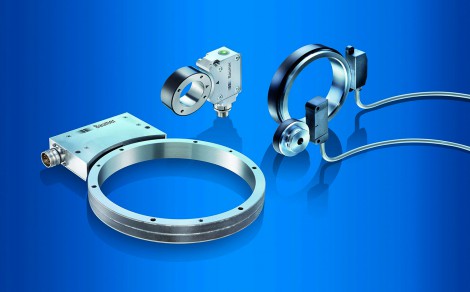 Measuring and monitoring of rotary speed and rotary shaft position on machines, industrial installations and electric drives is a key requirement in many industry sectors to ensure optimum performance.
Baumer comments that rotary encoders and angle sensors are the preferred devices to achieve this and the company offers one of the most comprehensive ranges of encoders and sensors.
The Baumer range now includes bearingless encoders which, as well as being very durable for the most demanding environments, are a convenient solution in applications where space is very limited. They feature space-saving, short mounting depth and wear-free magnetic sensing technology and are available in incremental and absolute variants.
The incremental option (MDFK/ITDx0/MIR) is designed for shafts up to 740mm and provide square wave and SinCos signals with up to 524 288 pulses and up to 32 769 sine periods. The absolute variants (HDmag MHAD/MHAP/MAGRES EAM) are for shorter shafts up to 340mm and provide SSI, CANopen, Analog interface with single-turn resolution up to 17 bits. They also feature additional square wave or SinCos signals and redundant product variants.
Applications for both variants of these bearingless encoders will be found in; motor feedback, textiles manufacturing, printing and paper machinery, elevators, cranes, wind turbines, hydro power stations and large drives used in steel mills.
---