Encapsulated coil for ATEX environments
23 October, 2018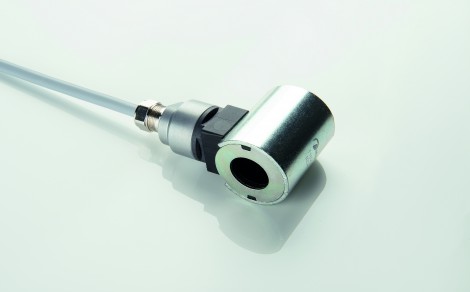 ATAM has launched an encapsulated coil for ATEX environments. The company claims that this is the first encapsulated coil for this environment (temperature rating T3) to come with an external armature and not merely an explosion-proof enclosure. The coil falls within the M2 equipment category.
According to ATEX directive 2014/34/EU, this means "Mining equipment whose power supply is interrupted when in the presence of gas".
Unlike coils with an explosion-proof enclosure, which have a temperature rating of T5 and T6 (low surface temperatures), this type of equipment does not need to be heavily de-energised. This characteristic allows manufacturers of solenoid valves to keep using standard products in potentially explosive atmospheres in compliance with the regulations in force, without having to create new valve bodies. Moreover, users can enjoy the benefit of significant cost reductions.
Wide range of applications
The first in a portfolio of ATAM products developed especially for use in explosive atmospheres and already popular with hydraulic users, this type of coil has a wide range of applications: mines, offshore platforms, fuel distribution systems, refineries, gas supply and treatment systems, gas systems installed in food and animal feed plants, wood industry, farms and wherever else there is potentially explosive gas or dust.
Besides the wide range of off-the-shelf coils and connectors (which also includes this coil), ATAM's production is mostly made up of custom products (70%), either made from scratch or based on the clients' requirements. Major international groups specialising in the hydraulic, pneumatic, and process valve industries have been relying on ATAM knowhow for years, from the first design stages of their solenoid valves.
ATAM's next-generation products are the result of the technical synergy between the development and production of encapsulated coils and industrial connections and a state-of-the-art laboratory. This allows ATAM to simulate the combined use of the two products, under any conditions, resulting in optimal solutions in terms of reliability, quality, and affordability.
The current context of ATEX
For ATEX purposes, normally-used coils are built with explosion-proof enclosures and are de-energised compared to those used on the same solenoid valves for standard applications. This prevents surface temperatures from reaching values close to those triggering the auto-ignition of the gases in the application environment. De-energising the coil requires the construction of specific valve bodies featuring lower performance. ATAM comments that due to the materials used for the external armature, the company's new encapsulated coil keeps ensuring surface temperatures lower than those that trigger the auto-ignition of gases generally found in these types of application (hydrogen included). ATAM adds that its coil is de-energised by just 15% compared to other products generally used. This means that encapsulated coils allow cost savings, as the body valve does not need to be redesigned.
The coil is encapsulated in an external magnetic armature. Both the body and flanges of the coil are coated with a Zinc-Nickel anti-corrosion treatment, which resists in salt fog for up to 120 hours before white rust appears and up to 700 hours before red rust appears. Its protection rating can be IP65 or IP69K in compliance with the IEC-EN-60529 standard. It can be powered with voltage values between 6 and 240 V, both in direct and alternating current.
The coil prototype presented recently at a trade fair has an inner diameter of 22 mm, an outer diameter of 45 mm, and a height of 54.5 mm, which are the standard dimensions for the hydraulic industry.
---