Charting the right course to efficiency in the marine industry
09 October, 2018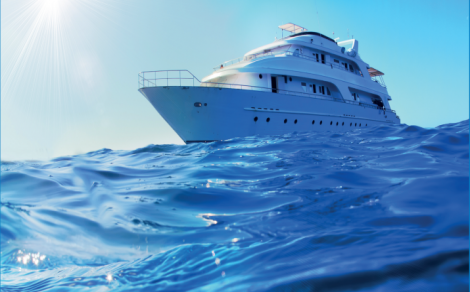 Spokespeople from British Fluid Power Association member companies Phoenix Hydraulics, Hydraproducts UK and Rotec Hydraulics consider some of the challenges associated with effective use and maintenance of fluid power systems and related equipment within the marine sector.
One of the most challenging industry sectors for engineering sciences has to be marine, where technology must be designed and built to withstand the demanding conditions associated with the open seas. Therefore, within the fluid power and related systems and equipment industry, providers to the marine sector need to ensure their products are designed and built to be 100% fit for purpose.
Arguably the most glamorous market segment within the marine industry is superyachts. As many superyachts are based in warmer climes, such as the Mediterranean, the Caribbean or Dubai, the operation and maintenance of electro-hydraulic systems should be performed with equipment that can function effectively in very high temperatures.
Phoenix Hydraulics specialises in the design, manufacture and installation of complete hydraulic systems for boats. The company's products – all designed and manufactured in the UK – include hydraulic tender lifts, bathing platforms, balconies, stainless steel hydraulic cylinders and other large moving systems needed on board. All the company's systems are designed and manufactured in its 20,000 sq ft factory facility in the midlands.
Monitoring
Additionally, Phoenix Hydraulics is now able to install a PLC system to a boat's ethernet network, enabling Phoenix to monitor the equipment remotely from its head office – e.g. if a bathing platform with a safe working load of 2500 kg is subjected to 3000 kg, the hydraulic cylinders will recognise the overload and sensors will alert us that the system is being compromised. "Usually with a safe working load of 130kg, our passerelles are positioned in a box behind the steps and are used for boarding/alighting a boat – should the passerelles be subjected to excessive loads, the latest satellite monitoring technology will alert us immediately," explains Phoenix Hydraulics' director & general manager, Elizabeth Noles, "In normal working circumstances, the passerelle will inform us when maintenance is required - the replacement of filters, the changing of hydraulic hoses, an oil change, etc. To ensure the equipment remains in optimum working condition, we will arrange for maintenance engineers to complete the work at a convenient time."
Concept to design
Rotec Hydraulics Ltd. is another company active within the marine sector, covering both commercial and pleasure applications. Rotec provides service and installation facilities to the local and national fishing fleets, as well as operating systems for fuel, fire and hydraulic services fitted to luxury yachts.
Within the bespoke luxury yacht market, Paul Prouse, managing director at Rotec Hydraulics Ltd., makes the point that time from concept to design based on budget can be difficult to predict as there can be many factors that increase design time over the original estimation. "Customers may have been working for much longer periods (months/years) on their design concept requirements, and when it comes to our part timescales are often short in relation to the overall project timescales," he said. "What could be classed as R&D work for bespoke projects is not always thought about/included in project costings and timescales, which adds pressure on designers to get it perfect first time."
Integrated systems
Integrated systems are the present and the future within the marine sector, according to Prouse. He maintains that the first challenge to providing the right system is obtaining a suitably detailed specification from customers of what kind of solution they are require for their specific system requirements and then matching these requirements to a practical solution that best suits the customer and the application. "There are now so many options electro-hydraulic/pneumatic products on the market which are constantly evolving," said Prouse. "As the customer does not always know what is available it is up to us as design engineers to keep up to date with new products on the market and where they could be integrated if suitable."
Prouse makes the point that an electro-hydraulic system that Rotec could fit on a superyacht would have to be compact, low maintenance and aesthetically pleasing whereas the same system fitted to a fishing boat would be rugged, industrial, easily maintainable and more cost sensitive. He adds that electro-hydraulics now offers a multitude of options that Rotec can then transpose to customers to give them system information, compact hydraulic systems, control interfaces and safety functionality. "Electronic control systems incorporating electronic valve control, electro-proportional valve control and actuator positioning feedback gives us a platform from where we can now control hydraulic actuators from a remote location without the need to be near to the hydraulic components," he said.
Power units
Also active in the marine sector is Hydraproducts. One of the areas the company is involved in within the marine sector on a regular basis is dewatering – closing bulkheads for dewatering purposes for buoyancy in subsea. The company manufactures a small hydraulic power unit which has been very successful in the dewatering market. Another area of Hydraproducts' expertise concerns LARS (launch and recovery systems), where hydraulic system reliability is paramount in order that divers can be deployed and recovered safely. This is an area where Hydraproducts' larger hydraulic systems employ wireless condition monitoring for maintenance scheduling.
Communication
With regard to the use of electrohydraulic systems within the marine sector, Ben Lee, director of Hydraproducts UK, reflects that effective communication with OEMs or end-customers is important when working with them to build or maintain systems that contain hydraulics – however, he points out that this can sometimes be a challenge. "We find that the level of knowledge and experience regarding hydraulic systems can vary significantly among technicians within this sector," he said. "Many of them within tend to be more controls oriented relying on things such as process diagrams, so we find the technical language they are used to can be rather different to that regularly deployed within the fluid power industry. They can be used to dealing with quite complicated process valve systems and not necessarily hydraulic systems incorporating mechanical components. So, from the outset it can be the case that we need to make them more aware of what a hydraulic system looks like and how it operates. The important thing to get across is that these systems are not a process, they are machines. So, the conversation needs to be brought back to basics to some extent."
Lee adds that communication is also important from the standpoint of both the customer's teams and the equipment provider's teams working largely as a single unit. "They need to be willing to absorb us within their everyday activities because they often don't have the required level of hydraulic experience to understand and use the equipment effectively," he said. "However, once the willingness to engage in this level of conversation is achieved things tend to go smoothly."
Skills and training
Of course, each project can differ significantly in terms of the type of equipment used. Also, there can be a lack of continuity among different project teams, and they can sometimes lack a central of core of shared skillsets. "Because of this siloed regime, we sometimes find that as soon as we have finished liaising with and training one project team, somewhere else within the same company there might be another team in another geographical region that still remains rather in the dark concerning hydraulic systems," explained Lee. "If there was more of a consolidated methodology in place regarding training that would certainly be more beneficial. General hydraulic equipment training is important, but even more important is on-site training where guidance can be given to personnel actually building and operating the equipment."
Digitalisation
And what of digitisation, one of the current key discussion topics within the fluid power sector and engineering in general? "Many people within our industry are talking about greater levels of digitalisation, but in our experience there isn't a great deal of this technology being utilised in practice – at least not yet," said Lee. "However, where it has been deployed it has been proven to be very effective. One area where we have really seen customers benefit in a major way is on the maintenance side – for example, being able to analyse and plot motor current pressures, oil contamination and so on – all those indicators that give you lifespan predictions. This is very valuable for equipment lease companies because end customers within the marine sector don't want to worry about the uptime of the machine – they just want to know what they're paying for is going to continue to work efficiently."
Fluid power and related equipment technology continues to develop in order to satisfy ever more demanding customer application requirements. Enhancements can be found in a number of forms; everything from more integrated electro-mechanical solutions to increased digitisation in areas such as remote monitoring for operational and maintenance purposes. Marine may be one of the most technologically demanding sectors, but the fluid power industry certainly continues to rise to the challenge.
---