The cartridge advantage
04 October, 2018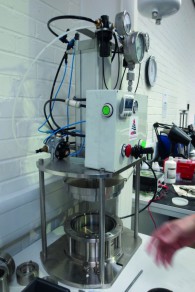 Originally developed for petroleum, natural gas and chemical applications, cartridge seals are increasingly being adopted across a much broader range of industries. Richard Smith, development director of oil, gas and petrochem at AESSEAL, explains the benefits driving the shift from component to cartridge mechanical seals.
Cartridge seals have been standardised in the petroleum, natural gas and chemical industries since 1994 (API 682 1st Edition).
Though originally intended for both new and retrofit equipment in hazardous, flammable and/or toxic services, they are becoming the sealing solution of choice for reliability-focused companies across the industrial spectrum, from food and drink to pulp and paper.
The reason for this is simple - compared to traditional component mechanical seals, cartridge seals provide increased reliability and cost efficiency in virtually all applications. In particular, they bring concrete operational benefits in terms of installation, maintenance and inventory management.
Installation issues
With component seals the risk of premature failure and reduced reliability is inbuilt in the installation process, as they are assembled into sleeves/gland plates during the pump build.
The working length of the seal is either controlled by the mechanic assembling the seal drive screws on the shaft, or with a hook sleeve on the pump shaft, held in place by the pump impeller. These are susceptible to build tolerance stack-ups and are affected by any re-machining of pump components. An incorrectly set working length will negatively affect seal reliability and lifespan.
Seal faces are made from quite brittle materials, which are often damaged on installation. It is also impossible to test the build until the pump is fully assembled. With most pumps, this can only be done when it is replaced in the pipework, and when the valves are opened, jeopardising process containment. Even with dual seals, where a compressed air integrity test can be carried out, test pressure is frequently limited to a few psi due to fear of reverse pressure unseating a seal face.
Cartridge seals, by contrast, are pre-assembled and pressure-tested as a one-piece unit and the working length is controlled by the seal manufacturer. The cartridge is locked to the shaft at the end of the pump assembly, so is unaffected by tolerance stack-up or human error.
Repair/refurbishment
Unlike component seals, cartridge seals can be boxed as a unit and sent back to the manufacturer's trained team for repair or rebuild, with a typical three-day turnaround. This saves management significant sums on training in-house maintenance teams and leaves them free to focus on core activities.
A competent seal manufacturer trends and tracks repairs, providing detailed data on reliability and helping to identify probable causes of failure. They also subject both new and repaired API cartridge seals to an integrity air test, providing assurance that sealing products have been correctly assembled.
---