Dixon launches EZLINK armless cam & groove range
17 September, 2018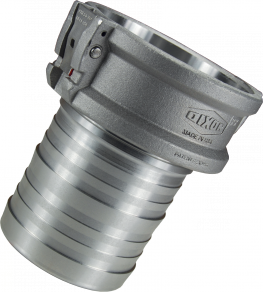 Dixon Group Europe Ltd., provider of hose and coupling solutions, has launched its new armless cam & groove product line – EZLink.
The EZLink system is a new design concept that features an armless positive locking system. Dixon comments that EZLink is easier to connect than conventional cam & groove products and requires less maintenance since there are no cam lever arms that tend to break and need replacing.
Simply push to connect the EZLink coupler to any standard cam & groove adapter to achieve a reliable connection. In addition, the product's low profile allows for easy connection and disconnection in tight applications and operating conditions.
Brian Zottarelli, vice president and general manager of Dixon's Cam & Groove Division, stated: "EZLink represents a major leap forward in cam & groove technology, and it comes as a direct result of Dixon listening to operators and the challenges they face in the field. We responded by developing a new design from the ground up. We're excited to offer products that will simplify and improve the transfer and unloading of fuels and other liquids."
At present, Dixon's EZLink product line includes types B, C, D and dust caps in 1½" to 4" in aluminium and from 1½" to 3" in stainless steel. These configurations come with a black Buna nitrile rubber seal as standard but FKM and Fluorosilicone are available on request to offer a low temperature as well as a chemically resistant seal option for various applications.
Other operational and safety features of the EZLink product line include coupler push tabs that can be locked with safety pins and/or a zip tie.
A copy of the EZ Link brochure is now available direct from Dixon.
---