US Ambassador visits Hydraforce
10 September, 2018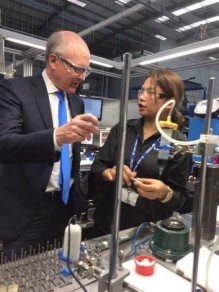 US Ambassador Robert Wood Johnson visited American-owned HydraForce Hydraulics Ltd, at Birmingham's Advanced Manufacturing Hub in June to see first-hand an investment made by its American-owned parent company into the UK.
Ambassador Johnson made the trip to Birmingham to speak at the 2018 Transatlantic Conference of the British-American Business Council, an annual event that encourages investment on both sides of the Atlantic. During his visit, he was keen to visit the US company which has been experiencing significant global growth.
The visit to HydraForce's European headquarters on Aston Hall Road, gave Ambassador Johnson the opportunity to speak with the company's management and meet other employees including apprentices and undergraduates. Both the Apprentice and Undergraduate schemes are helping to grow young engineering talent in the UK.
Tony Brown, managing director, said: "We were able to brief the Ambassador on the company's strong growth over the last three years. As a global business, we work closely with HydraForce Hydraulics Inc to support our customers across the world."
Single biggest investment
HydraForce, whose global turnover for 2017 reached $378 million, moved its factory to the Advanced Manufacturing Hub in August 2015. It was the single biggest investment made by the American- owned corporation, costing a total of £10 million.
The business was the first company to move into the Advanced Manufacturing Hub, which has since expanded to accommodate a number of different manufacturing and engineering companies to support the region's growth. Since HydraForce's relocation nearly three years ago, the company has created over 300 new jobs, with more predicted over the coming months.
Nicola Hewitt, commercial director at the West Midlands Growth Company, which operates inward investment programme Business Birmingham, added: "HydraForce is a global company and a leader in high quality, precision manufacturing. The business is going from strength to strength and since investing in Birmingham's Advanced Manufacturing Hub has experienced unprecedented growth, with turnover of its UK and European operations reaching a staggering £78 million in 2017.
"The company chose to headquarter in Birmingham over a number of other international locations. This is testament to the world-class advanced manufacturing capabilities of the region, the highly-skilled, technical talent-pool available and the strong links between Greater Birmingham and the US, allowing companies like HydraForce to seamlessly operate between its key markets."
HydraForce celebrates its 30th anniversary in Birmingham this year.
---