The Secondary Engineer 'Fluid Power Challenge' to be extended to Cambridgeshire Schools
06 September, 2018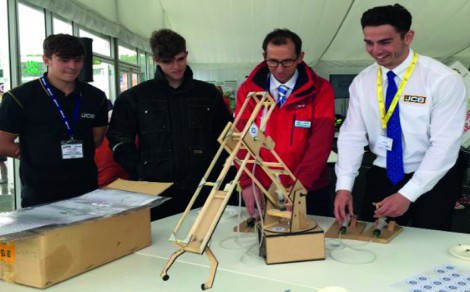 The successful national programme, The Secondary Engineer Fluid Power Challenge, which aims to attract secondary school pupils into engineering, is being launched into schools in Cambridgeshire and East Anglia.
The project is set to run during 2018/19 and aims to introduce over 200 14-year olds to the fun and challenge of building a pick and place robot arm using low cost materials and fluid power principles.
Support
Fluid Power Challenge is run by the not-for-profit Primary Engineer Programmes and is supported by many companies including Webtec and Cambridgeshire Hydraulics, as well as numerous trade associations including British Fluid Power Association (BFPA), British Compressed Air Society (BCAS), and Construction Equipment Association (CEA).
The Secondary Engineer Fluid Power Challenge is a pneumatics and hydraulics systems project which gives schools the opportunity to engage in basic engineering principles and concepts, using readily available materials to design and build working systems. Not only does this support the study of STEM (Science, Technology, Engineering, Maths) in a practical manner but allows pupils and teachers the opportunity to work with engineers in the classroom and compete against teams from other schools.
Teachers from secondary schools in East Anglia area were invited to attend a one-day practical training course, hosted by Webtec on 18 July, at the company's St Ives manufacturing facility. Engineers from Webtec and other local companies partnered schools and supported teachers on the training day and after with pupils in the classroom.
Inspirational
Martin Cuthbert, Webtec's managing director, said: "The Fluid Power Challenge is well named; this initiative has the power to inspire the engineers of tomorrow, to let children have fun building a real-life robot arm and at the same time connect industry and schools during the learning journey. We are delighted to support the Fluid Power Challenge as we urgently need to attract the next generation of engineers and all credit to the Primary Engineer team for making this possible."
Further information can be found at the Secondary Engineer website at: www.secondaryengineer.com
---