ADLINK launches IoT Digital eXperiments-as-a-Service to alleviate high costs and risks
15 August, 2018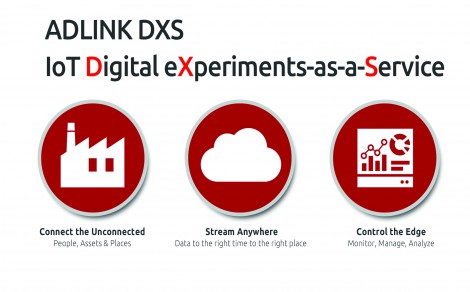 ADLINK Technology has launched its DXS IoT digital experiments as-a-service offering. The service is for the testing of potential IoT-based endeavours to determine the viability of possible solutions with none of the upfront costs and risk associated with a full solution commitment.
Full IoT solutions conventionally require significant upfront investment, despite, according to industry studies, success rates for such projects only reaching 26%. In response, the convergence of IT best practices and OT (operations) has given rise to the concept of digital experimentation. ADLINK's own DXS provides operators with all the benefits of digital experimentation, is vendor agnostic, and enables timely implementation of experiments without associated upfront costs.
ADLINK DXS provides all the resources required to get digital experiments up and running, including pre-validated hardware, client asset connection, data movement consolidation to bridge the IT/OT gap, enterprise sharing, endpoint management, and field and professional services.
The DXS approach is built on the experience of building military grade solutions – optimised for real-world limitations such as security, latency and power. Solutions are designed to take maximum advantage of cloud, data centre and edge processing.
"ADLINK DXS IoT digital experiments as-a-service allows organisations to think big, start small and work fast when integrating IoT-based functionality within new business models or processes," said Andy Penfold, director of offering management, ADLINK IoT Solutions and Technology. "Digital experiments combine existing elements in new ways, and the more experiments that are implemented, the more innovations are created. We believe strongly that digital experiments will form the basis of the next generation of business models and processes shaping industry landscapes. Digital experiments, whether successful or unsuccessful, are key to an effective culture of innovation."
For more information, visit: http://go.adlinktech.com/DXSGetQuote_LP.html?UTM_Source=PR&utm_campaign=ISTS&utm_medium=
---