Industrial grinders and sanders for metal working applications
09 August, 2018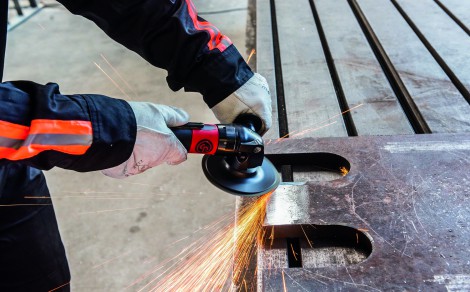 Chicago Pneumatic is introducing a new series of industrial grinders and sanders to help users achieve a high-quality finish with minimal effort while keeping costs down.
Lucas Bryk, global product marketing manager material removal at Chicago Pneumatic, explained: "In an increasingly competitive world, our industrial customers are looking for tools they can rely on without paying a premium for features they don't need. The CP3550 series will include all the basic tools required to undertake everyday metalworking operations involving angle grinders and sanders, offering CP quality at an affordable price."
The new series of pneumatic tools is designed for use in high volume metal casting and fabrication environments. Combining high power with industrial durability, the CP3550 series is ideal for tasks like grinding, chamfering, weld preparation and cleaning, cutting, finishing and sanding; as well as other industrial MRO applications.
The CP3550 series of pneumatic grinders and sanders has been developed to help users achieve a high-quality finish with minimal effort every time. All tools in the range boast a powerful motor to ensure optimum surface preparation results in the shortest possible time. For example, the new angle grinders in this series boast a powerful 1.5 hp (1100W) governed motor, providing a high material removal rate and enabling users to reduce the time taken to complete their tasks. The new angle grinders are available in different abrasive capacities: from 4" to 5" (100mm to 125mm), offering users the ability to select precisely the model that matches their preferred abrasive.
The breadth of choice, including straight and angle die grinders with short or extended reach, further ensures that the new CP3550 series offers users a comprehensive and powerful range of pneumatic tools.
---
AIR-TECH EXHIBITION


16 April, 2024, 9:30 - 18 April, 2024, 4:00




Hall 9, the NEC, Birmingham, UK

FLUID POWER & SYSTEMS EXHIBITION


16 April, 2024, 9:30 - 18 April, 2024, 4:00




Hall 9, the NEC, Birmingham, UK