HUSCO International invests in its eighth and ninth MecWash wash systems
10 July, 2018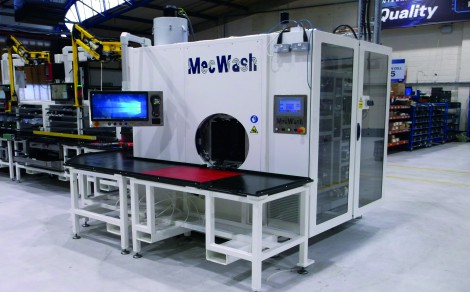 HUSCO International, developer and manufacturer of hydraulic and electrohydraulic controls, has installed another MecWash Midi component cleaning system following the success of previous installations.
HUSCO commissioned its first MecWash Midi for use at the company's European headquarters in Runcorn, Cheshire, in 2000. Since then it has installed a further six cleaning systems. Another two machines will be delivered this year, totalling nine MecWash machines altogether. MecWash also has five component cleaning systems in HUSCO's US manufacturing plants and one in its Chinese factory – all six MecWash machines clean cast iron manifolds. Since the beginning of 2018, HUSCO has ordered another machine for each of the US and Chinese operations.
The Midi and its replacement system, the MWX400, clean hydraulic control valves used in off-highway applications, including agricultural machinery, materials handling and construction, to the exacting standards demanded by HUSCO's customers around the world.
HUSCO's senior manufacturing engineer, Mike Gandy, commented: "Our customers trust us to deliver precision engineered parts manufactured to the very highest specifications. HUSCO's global reputation is recognition of our unwavering commitment to quality and this applies to all aspects of our supply chain.
"Solid particle contamination can interfere with the lubrication process in hydraulic fluid systems – causing wear to the components can result in additional maintenance and repair costs, and a substantial decrease in the system's service life. Worn components can lead to parts seizing, higher fluid temperatures, leaks and reduced control. Contamination can also damage the system's fluid by accelerating oxidation – again resulting in inefficient operation.
"All of our parts must be free from contamination before they reach the assembly line when even the smallest levels of contamination can have significant long-term effects. The MecWash machines are renowned within the hydraulic industry for achieving high cleanliness which is the main reason we continue to invest in MecWash technology."
Gandy continued: "With the introduction of HUSCO's new Trinity Cell One in Runcorn which is now completed, we are commencing the installation of the planned Trinity Cell Two – the continued investment in cleaning equipment from MecWash ensures our customers get the highest quality hydraulic valves to meet their stringent cleanliness standards."
Functionality-rich
MecWash's managing director, John Pattison, said: "The Midi and MWX400 are the ideal choice for cleaning components used in hydraulic and pneumatic systems. They have been specifically designed to process complex and intricate machined parts that require very high standards of cleanliness, surface finish and dryness, and can incorporate a range of functionality including ultrasonic, high flow washing, rinsing, dedicated jetting and vacuum drying.
"Most importantly of all, as HUSCO has confirmed, the Midi and MWX400 provide 24/7 reliability which is absolutely imperative in the demanding industries in which they are used."
HUSCO successfully operates manufacturing facilities and provides local support throughout Europe, India and China, as well as the US which is home to its global headquarters. It has developed a manufacturing blue-print that enables the company to replicate production operations across continents; robust supplier relationships are a key factor in the company's global success.
HUSCO proactively develops successful, long-term relationships with suppliers through its dedicated Supplier Development Team.
This approach resulted in HUSCO installing MecWash systems around the world. Pattison explained: "A number of our customers with global manufacturing operations choose to replicate successful practices when they establish new facilities both here in the UK and overseas. This approach removes some of the risk and can speed up the whole process.
"Experienced companies like HUSCO, recognise the value of establishing and maintaining long-term relationships for the benefit of the whole supply chain, including their end customers."
As with the majority of the previous Midi installations, the seven UK machines currently in production along with the further two machines planned for this year all benefit from Aqua-Save waste water recycling systems to reduce the volumes of water used in the wash process.
---