One air, one supplier
01 June, 2018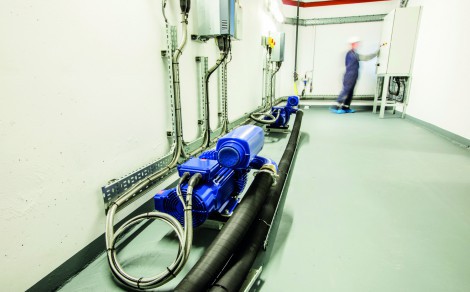 Dealing with many suppliers is costly, time-consuming and adds unnecessary administration to a company's operations. In contrast, choosing a single source of supply can deliver a range of benefits. Andrew Power, country manager at Gardner Denver (pictured), discusses the advantages of a business using a single supplier for all their industrial air needs.
How many suppliers does a business depend on to operate successfully? The time and costs required to process an order can vary widely, depending on factors such as the industry, complexity of the order and how streamlined a company's structure is. Yet, with all this in mind, there is no escaping the simple rule that the greater the number of suppliers, the more cost, time and administration there is involved.
The power of collaborating successfully with a single supplier should not be underestimated. A report by McKinsey & Company discovered that companies with advanced collaboration capabilities tend to outperform their peers, leading to increased growth .
Key benefits
The first key benefit to a business partnering with a single supplier for all industrial air requirements is strengthened relationships. Building strong, mutually beneficial, long-term relationships with a supplier will always help improve operational and cost efficiencies.
Secondly, companies can secure better terms through volume. The greater the number of air technologies provided by a single supplier, the more opportunities there are to leverage a better agreement. This can make commercial sense, allowing an organisation to negotiate terms to meet their unique needs and requirements.
Next, businesses can make valuable savings by reducing time spent on administration. Switching to a single supplier means only processing one invoice, agreeing only one service contract, and dealing with only one customer care team. This lets decision makers concentrate on the more important jobs that can make a real difference to the bottom line.
Partnering with a single supplier can also lead to significantly reduced lead times. By working with one partner across all its air technologies, the supplier can ensure that common spare parts and servicing needs can be analysed to help improve efficiencies. This reduces the risk of downtime.
Finally, there is the benefit of easier servicing. Regular maintenance is essential to ensuring equipment continues to operate reliably. When working with a single supplier, with just one servicing contract in place for all equipment on site, maintenance checks can be undertaken in one go.
A single solution for the aquaculture industry
One organisation that has recently understood the improved operational efficiencies that can be realised from streamlining its industrial air suppliers is Gael Force Group. A marine equipment, technology and engineering business, the Group has agreed to a three-year partnership with Gardner Denver for all its industrial air requirements.
Speaking about the contract with Gael Force Group, Umberto Onetti, aquaculture key account manager at Gardner Denver, said: "Our ability to offer a 'OneAir' solution really sets us apart from the competition. Whether it is rotary lobe blowers, side channel blowers or a compressed air system, our extensive portfolio means we can offer the right solution to meet your industrial air needs.
"The agreement with Gael Force is also a great example of a company that has understood the efficiencies that can be realised from working with a single industrial air supplier. From lower administration costs and better terms through volume, to stronger relationships with a single supplier that knows your business's needs intimately, we can help meet all of Gael Force's industrial air requirements."
Neil MacDonald, project and design engineer at Gael Force Group, added: "Gardner Denver has been engaged with us from the very beginning, bringing its extensive experience and innovation to the table. The company has been really easy to work with, proving themselves to be a very trusted supplier."
From stronger relationships to more impactful insights, partnering with a single supplier can deliver a whole range of benefits to a business.
www.gardnerdenver.com/industrials
---