Fluid Power & Systems and Air-Tech 2018 triumph
24 May, 2018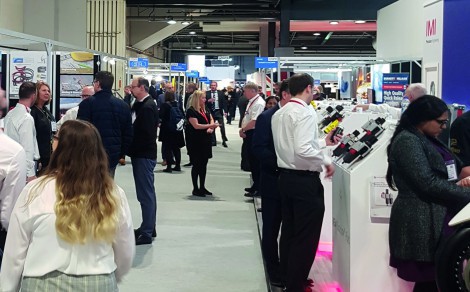 Fluid Power & Systems and Air-Tech 2018 took place at the NEC, Birmingham from 10 to 12 April. The shows – co-located with Drives and Controls and Plant & Asset Management, together with a brand-new show Smart Industry Expo – proved to be organiser DFA Media's most well-attended event to date, with an official attendance figure of 13,518, which represented a small increase on the 2016 shows of 3%. These exhibitions were staged alongside MACH, attracting over 40,000 visitors to the NEC over the week.
New extended BFPA & BFPDA pavilion
As the result of a joint initiative between the British Fluid Power Association (BFPA) and exhibition organiser DFA Media, the BFPA introduced a new extended pavilion that included a dedicated Distributor feature at Fluid Power & Systems 2018.
The Knowledge Hub
The Knowledge Hub – located in the heart of the co-located events – took the highly respected free seminar and conference programme to a different level. The structure of the Knowledge Hub programme provided visitors with a unique learning experience with one of the most comprehensive speaker programmes of the year.
Support
Sponsors for Fluid Power & Systems 2018 were: Custom Fittings, IMI Norgren, Metal Work, MP Filtri, Schwer Fittings, Pirtek, SMC Pneumatics, Stauff and Tom Parker Ltd. Media partners for the show were: Hydraulics & Pneumatics, Drives & Controls and Process Engineering. Sponsors for Air-Tech 2018 were: Gardner Denver, Hertz Kompressoren, Huba Control, Ingersoll Rand, Mattei and Teseo. Media partners for the show were: Hydraulics & Pneumatics and Plant & Works Engineering.
Annual Motion Control Industry Awards
The third annual Motion Control Industry Awards Dinner, held on the evening of Tuesday 10 April at the National Conference Centre near Birmingham, once again provided a fitting celebration of business and professional excellence. Co-located with the Fluid Power & Systems, Air-Tech and Drives & Controls exhibitions at the nearby NEC. The Awards event recognises the achievements of 'motion control' companies and individuals who strive to go the extra mile. For a report on this event, see page 36.
Biggest event to date
DFA Media's commercial director, Ryan Fuller, commented: "This was our biggest co-located event to date, with even more exhibitors and more extensive floor space than we have featured in the past, together with an extended seminar and conference programme. In addition to the performance of the shows, I was also delighted to witness the growing success of the Annual Motion Control Industry Awards Dinner. Now in its third year, the event really has become the industry's main awards event. Now, although it might seem like a long way off, it's time to start preparing for our shows for 2020."
DFA Media managing director, Ian Atkinson, said: "As the organiser, we were once again delighted to hear positive reports from exhibitors and visitors alike. We feel this reflects the health and positive outlook of the shows' target technology and industry segments. The entire team at DFA Media would like to thank the exhibitors, seminar presenters and visitors for making the event our biggest and best so far."
---