WORKING IN SUB-ZERO CONDITIONS
19 January, 2017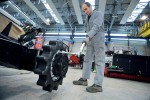 Powered by a 12.5 litre Caterpillar C13 Acert turbo diesel engine, 'The Beast' is a vehicle responsible for grooming the ski slopes, at night and when others are enjoying the après-ski. Operating in temperatures around 30◦ below freezing and on slopes that can be over 45◦ steep, HENKEL says The Beast relies extensively on LOCTITE engineering adhesives from Henkel to secure components and seal hydraulics.
The manufacturer of this powerhouse is Prinroth AG based in Italy where components shipped from Canada, the US and local plants are hand assembled to individual customer specification. "We need to work fast but without any compromise on safety or reliability," explained the head of assembly. "That is why we use LOCTITE products. They are easy to work with and we can rely on them 100%."
The efficiency of the hydraulic systems that drive the tracks, blades and tillers is crucial to The Beast. For sealing hoses Prinroth uses LOCTITE® 572 to create an instant seal that cures to burst strength. LOCTITE® 638 is also used, typically to retain ice studs and aluminium track blades. As well as being able to cope with pressures up to 550 bar, the product naturally has to withstand temperatures way below zero.
t: 01442 278000
w: www.henkel.com/www.loctite.co.uk
Click here for the full unedited version of the release as provided by the company
---
AIR-TECH EXHIBITION


16 April, 2024, 9:30 - 18 April, 2024, 4:00




Hall 9, the NEC, Birmingham, UK

FLUID POWER & SYSTEMS EXHIBITION


16 April, 2024, 9:30 - 18 April, 2024, 4:00




Hall 9, the NEC, Birmingham, UK