Challenging design thinking
29 July, 2016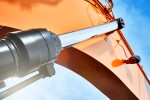 OVAKO reports it has launched a new concept with its Cromax material and one that will deliver cost advantages, while challenging design concepts for hydraulic cylinders.
Ovako says as the only producer of dedicated piston rod steel it has complete control over the material quality from initial melt through to rod production and final coating and it is this unique position that allows the company the ability to deliver optimum material quality for customers so important in the processes of piston rod manufacture.
The company says by making small metallurgical refinements optimising the chemical composition in the steel to safeguard the structural integrity it is possible to provide a significant economical gain with cost reductions and lighter construction possibilities.
t: + 46 8 622 1300
Click here for the full unedited version of the release as provided by the company
---