AeroPro pneumatic power tools – new to the UK
29 April, 2014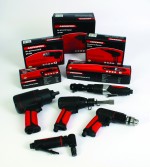 As an integral part of its on-going exclusive brand development programme, Flowtechnology UK has launched AeroPro; a new range of Pneumatic Power Tools available to the UK market.
This high-quality brand of air tools has a well-established global presence and arrives in the UK at a very competitive industry price. Flowtechnology UK comments that these products have been designed 'for engineers – by engineers' using state-of-the-art technologies, manufactured for prolonged use and improved longevity.
Every tool is manufactured using lightweight, high-strength materials with heat-treated components for maximum durability. Fully hardened planetary gearsand comfortable composite grip handles reduce friction; thus improving user comfort and tool productivity. Screened filter air inlets and front, side or rear exhausts help support a cleaner working environment and extend tool life. All tools are supplied as standard with a 12 month manufacturer's warranty.This professional range of tooling comprises;
Impact wenches
The internal twin hammer mechanism both reduces vibration, via smooth balanced blows and provides greater power; transferring a higher torque ratio to the drive than any other mechanism on the market. 17 piece wrench kit also available.
Ratchet wrenches
The ball socket retainer provides fast and easy socket replacement while the compact head design allows flexibility in tight areas. A forward/reverse lever located behind the ratchet head enables a quicker change of direction.
Impact hammer
The positive action trigger and built-in air regulator supports simple power and speed control, while the standard quick-change spring enables easy chisel change. A 4-piece chisel set is included as standard.
Reversible drills
Available in pistol grip or straight grip for use in confined spaces. The high precision chuck and locking capability ensures easy replacement of the drill piece. Precision machined gearing ensures maximum power transfer and durability while variable speed throttle and single push-button facilitates easy starts.
Die and angle grinders
For use with all types of accessories for porting, weld breaking and smoothing sharp edges, as well as deburring, polishing and grinding. The high-performance, four vane motor and planetary gearing balances load on bearings and gears for ultimate power.
For full brochure and technical information, visit www.aeropro-eu.com.
---
AIR-TECH EXHIBITION


16 April, 2024, 9:30 - 18 April, 2024, 4:00




Hall 9, the NEC, Birmingham, UK

FLUID POWER & SYSTEMS EXHIBITION


16 April, 2024, 9:30 - 18 April, 2024, 4:00




Hall 9, the NEC, Birmingham, UK