27 October, 2017

By Steven North, design and project engineer, Apex Hydraulics.
---
27 October, 2017
ExxonMobil has launched its 'Energy Saving Guide for Injection Moulding Companies', in partnership with research consultancy, Applied Market Information. Developed by industry expert, Dr Robin Kent, the free handbook contains practical guidance and insights to help plastics processors cut their energy consumption.
---
27 October, 2017
With a new multi-channel condition monitoring system (CMS) specifically designed for machine tools, Schaeffler is pursuing two objectives: first, condition monitoring and condition predictions for key components in machine tools using a single CMS, and second, the flexible integration of sensors from different manufacturers into the CMS.
---
26 October, 2017
The Engineered Materials Group of Parker Hannifin now offers an extensive range of large-size seals. Due to new manufacturing technologies, Parker Prädifa is now able to offer machined seals made of high-performance polymer materials in diameters up to 4.5 metres (m), metallic C-Ring in diameters up to 7.6 m, and precision elastomer O-rings in practically any desired diameter.
---
26 October, 2017

Jubilee Clips has introduced a new and improved range of Lloyd's Register approved High Torque heavy duty hose clips, now made in its factory in Gillingham, England.
---
26 October, 2017
Trelleborg Sealing Solutions used SPE Offshore Europe Conference & Exhibition in Aberdeen as a platform to launch its latest Isolast perfluoroelastomer (FFKM) material development.
---
26 October, 2017
The established, field-proven range of HDi (High Density Interface) solenoid valves available from Lee Products has recently been expanded following the introduction of a new Lo-Lohm latching 3-Port HDI solenoid valve.
---
27 October, 2017
The new Alfa Laval Unique DV-ST UltraPure actuator fits the complete range of the company's standard diaphragm valves. According to Alfa Laval, the actuator simplifies inventory management and makes the specification process quick, easy and secure.
---
26 October, 2017
Power management company Eaton has expanded its range of hydraulic hoses with the launch of the Dynamax EC881 hose series. Qualified to 1 million impulse cycles, this new two wire-braided hose has been designed to last and withstand tough applications. Intended for deployment in mobile applications such as compact construction equipment, agricultural vehicles, aerial lift platforms and forestry machines, this hose is also suitable for industrial applications such as hydraulic presses.
---
26 October, 2017
Refinery operators have a pressing requirement to improve the efficiency of flow control in their plants and they want to know from the Distributed Control System (DCS) if valves are open or closed.
---
26 October, 2017
Linde Hydraulics GmbH & Co. KG launched a new generation of bent axis motors at Agritechnica 2017, thus continuing its tradition in this motor segment. The new bent axis motors – the variable displacement motors (CMV) and fixed displacement motors (CMF) – are characterised by their high power density and speed capability.
---
26 September, 2017

SealXpress, based in Oldbury, West Midlands, has introduced what it describes as the first polyurethane material that is under 80 shore hardness. U505-P79 combines the positive properties of elastomers with the properties of polyurethanes and is characterised by high flexibility with regard to possible application areas.
---
26 September, 2017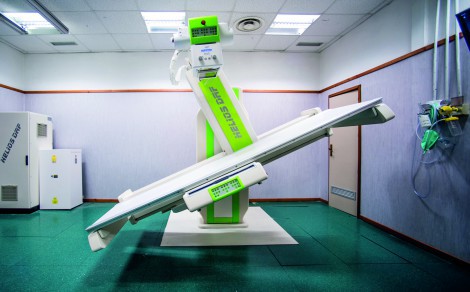 Parker Hannifin has gained new business which highlights the benefits of using the company's SMB low-inertia brushless servo motors and SLVD-N servo drives for the safe and smooth movement of medical patients.
---
26 September, 2017
Ceramex, a specialist in Diesel Particulate Filter (DPF) cleaning and inspection turned to Triark Pumps when pump failure loomed.
---
26 September, 2017
Hydraulics are commonly utilised to control the yaw, pitch and braking systems on modern wind turbines. Accumulators are typically used along with hydraulic power units to feather the blade pitch. Accumulators also serve as an auxiliary power storage device to quickly and safely rotate the blade to a null position in extreme wind conditions.
---